Virat Kohli must do well in Test cricket too, says Sourav Ganguly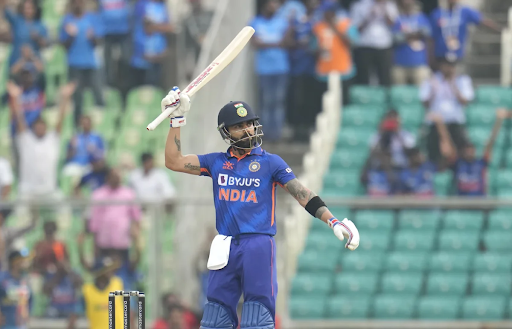 Virat Kohli has bounced back strongly after about three years of poor run with the bat
Former India captain and the president of the Board of Control for Cricket in India (BCCI), Sourav Ganguly has once again challenged Virat Kohli to continue making his runs in the longest format of the game where he has had a bad in three years but his last test century coming in November 2019 against Bangladesh in Kolkata.
After enduring a tough run with the bat and individually as a player in the years 2020 and 2021, Virat Kohli was able to turn around tables with a stunning century against Afghanistan in the Asia Cup last year – his first T20I century – while he has been in red-hot form in one-day international cricket, taking his tally of overall centuries in the 50-overs format to 46.
With the all-important Australia series coming up consisting of four Test matches for the Border-Gavaskar Trophy, former India captain Sourav Ganguly, who guided India to a famous win over the Australians back in 2001 and then drew an away series in 2003-04, wants Virat Kohli to be at the top of his game against the world No 1 side.
Sourav Ganguly told India Today,
"Virat Kohli is doing good. He has done well against Bangladesh and Sri Lanka. He has to do well in Test Cricket also because the Indian cricket team depends on him. The Australia series is coming soon and I hope it will be a very good one. I want India and Australia to play the World Test Championship Final."
Talking about the upcoming 50-overs World Cup which India will be hosting later this year, the former BCCI boss said that India will be ready to have a crack at the trophy and win it for the third time, after doing so in 1983 and then at home under the leadership of Mahendra Singh Dhoni in 2011.
Sourav Ganguly has also given a green light and his vote of approval to his former teammate and current coach of the Indian team, Rahul Dravid, to continue doing his work with the Indian ODI side saying that this team should not be disturbed as far as combination is concerned.
Sourav Ganguly said,
"The Indian side is very strong. India can't be a bad team. In our country, there are lots of players who play cricket. Half of them don't get a chance in the national team as the competition is very high. I want this team to play till the World Cup. I want the selectors and Rahul Dravid to keep this team together till the World Cup. And in the World Cup they should not worry much, they just have to play good."