Virat Kohli: I don't feel my T20 game is declining at all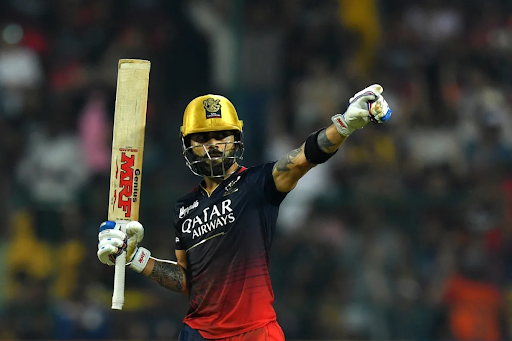 Virat Kohli tried his best but RCB could not make it to the playoffs of IPL 2023 competition
Royal Challengers Bangalore (RCB) batsman Virat Kohli says that his T20 cricket is not declining; it has been in perfect health after he scored a second century in the Indian Premier League (IPL) 2023 competition but his knock was not enough to take the side into the play-offs.
In their crucial encounter against Gujarat Titans on Sunday night, Virat Kohli scored a sensational century, hitting 13 fours and one six to make 101 not out from 61 balls to take RCB to a strong total of 197/5.
But Shubman Gill responded with a century as well for Gujarat Titans as the defending champions made it to the play-offs with 20 points in the league round which was most for any team in the competition.
Virat Kohli was quoted saying after the match, "Ya, I felt great. A lot of people feel my T20 cricket is declining, but I don't feel like that at all. I feel I am playing my best T20 cricket again. I'm just enjoying myself, this is how I play T20 cricket. I look to hit gaps, hit a lot of boundaries and the big ones in the end if the situation allows me to."
Batting great said strike rates and importance of getting runs quickly is perfectly fine but batsmen must also read the situation in the game and bat accordingly since that is the smartest way of getting runs on the cricket ground.
"Strike rates, all those kind of things like I said in the past as well… You have to read the situation and rise up to the occasion when the situation demands, and that's something I take a lot of pride in doing, and I've been doing it for a while now. I feel really good with my game at the moment and how I'm batting out there in the middle,"

he said.
Virat Kohli, whose game is not just about power-hitting but also running between the wickets to keep rotating the strike, says that a batsmen must read the situation in the game carefully in order to get his runs and help his team.
"Spin wasn't easy to get away with and I think the strength of a lot of our fast bowlers is also taking pace off. There's enough in this pitch for our bowlers to make a dent through the [chase], and hitting big shots as you saw in the middle overs wasn't as easy when the field spread out. So you have to hit a lot of gaps and run twos. If we can cut down those boundaries and now allow them to run twos from those gaps, then it'll be a very difficult chase,"

Virat Kohli said. 
Unfortunately for RCB, Virat Kohli's record seventh century was not enough as they could not make it to the business end of the IPL 2023 competition, paying the price of having an imbalanced team which did not really click together in as many matches as they and their fans would have liked.