There's no priority for me whether it's a white ball or red ball cricket – Bhuvneshwar Kumar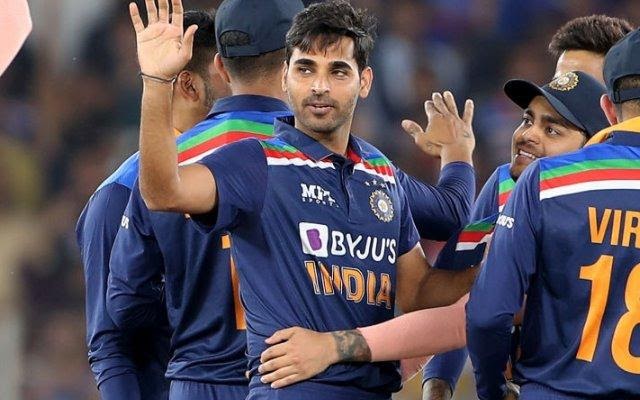 CricTracker/ Twitter
Bhuvneshwar Kumar said that there is no priority for him whether it is red-ball or white-ball cricket. He said that his only concern is to normalize his injuries and prepare for all three formats.
Ahead of the three-match ODI fixtures, Indian right-arm pacer, Bhuvneshwar Kumar said that it has been a great experience working under the instructions of Rahul Dravid.
With the senior Indian team touring England, the Indian B team squad has been sent to play limited-overs series against Sri Lanka under the coaching of Rahul Dravid.
"It's been good (working with Dravid). We spent 14 days in quarantine in Mumbai. After seven days, we were out in the gym. He's kept things very simple. There are young guys, there are senior guys. Everyone is listening to him. It's been a good experience. Once the matches come, there will be planning and we'll get to learn more from him,"

said Bhuvneshwar in the press conference.
The squad comprises a couple of young talents including; Chetan Sakariya, Prithvi Shaw, Devdutt Padikkal, Ruturaj Gaikwad, Suryakumar Yadav, Nitish Rana, Ishan Kishan, Rahul Chahar, K Gowtham, Krunal Pandya, and Varun Chakaravarthy.
The 31-year-old said that as an experienced player in the squad, it is his responsibility to chip into the squad and guide the youngsters.
"First of all, these are very talented young guys. We've seen them in their respective IPL teams. They have done well there to grab their spots in the Indian team. I don't think they need much guidance. You just go and talk to them if there's a need for something to talk about. We never try to make anything complicated. We've got Rahul Dravid with us, he is guiding them well. Being a senior member in this side…it's no rocket science, we go and talk to them if we feel that there's anything we can contribute."
Over the last few years, the right-arm pacer has been facing soft tissue injuries. He said that he has not made any changes to his training methods but he is trying to figure out ways to get himself quick recoveries.
"Not really, the only thing I've worked on is how to get over those injuries quickly. There's not any particular change that I've made. There are things like workload, how to recover from that quickly, do a few things that trainers and physios advise me. There are not any particular things with my training, whether it's on the field or off the field. I haven't changed much."
Following the injuries, Bhuvneshwar has not been picked up for the longest format of the game since 2018. The veteran pacer said that he is ready to play red-ball cricket and he is not prioritizing one format over the other.
He said that if he gets selected in the red-ball cricket, he is ready to contribute.
"I'm just working normally, trying to prepare for all the formats. If I get a chance in any of the formats I'll look to contribute there. I'm not looking way ahead, like 18-20 months. But definitely, I'll prepare myself to play all three formats,"

he said.
With the T20 World Cup just around the corner, the fast bowler said that it would be a great deal to win the T20I series to build the momentum for the upcoming event.
"T20 World Cup is around the corner. We want to do well in the T20 matches, we've got just three matches. It's about how you execute your skills. Sometimes you do well in the skills part but don't get wickets. As a team, we want to win and say that we won the last international series before going into the World Cup."