The series win over Australia booMcDermottsted our confidence ahead of WC – Shakib al Hasan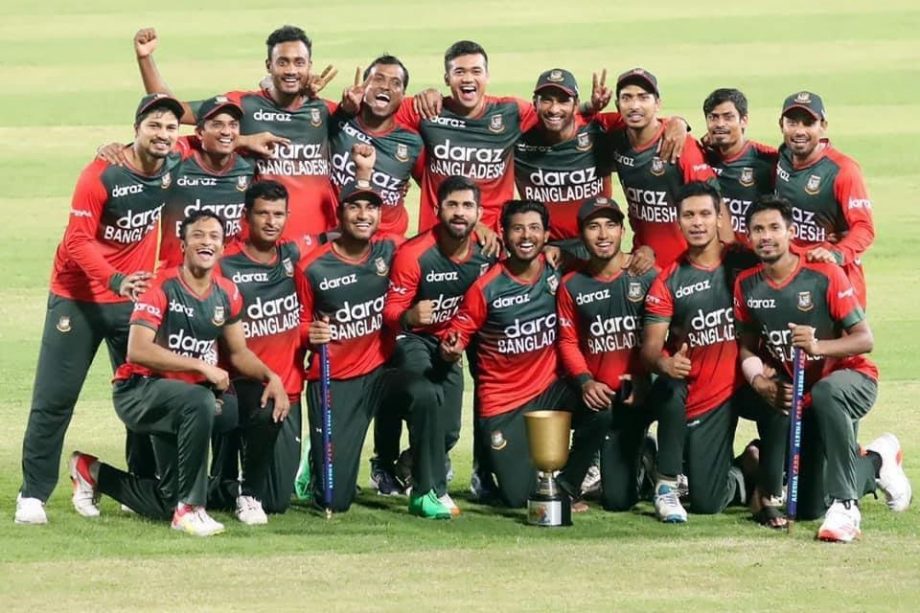 Mushfiqur Rahim/ Twitter
The veteran Bangladesh left-hander, Shakib al Hasan acknowledged that 4-1 over Australia in the five-match T20I series has boosted their confidence ahead of T20 World Cup by the end of this year.
Bangladesh had already won the series in the first three T20I's. After defeating Australia by 3-0 in the first three matches of the series, Bangladesh lost their fourth T20I by 3 wickets.
The last T20I was played in Dhaka with Bangladesh humiliating mighty Australia again after bowling them out on 62 after giving an average target of 123 in 20 overs.
Bangladesh had won the toss and decided to bat first. Bangladesh got an ideal start after both the openers, Mahedi Hasan and Mohammad Naim were playing sensibly.
They hit several fine boundaries and set a great partnership. In the fifth over of the innings, Ashton Turner came to bowl and Mahedi lost his wicket, caught by Ashton Agar.
Naim was playing so well but Dan Christian deliver his off-cutter to Naim, caught out by Agar. In the tenth over, Adam Zampa was back into the attack and took the most important wicket of Shakib al Hasan for his team.
Mahmudullah was in good touch and he was playing some watchful innings but Australia got a huge breakthrough when Agar took his wicket.
No Bangladesh batter could stay at the crease for a long time and didn't help their team set a huge total.
Bangladesh had set a total 122/8 after 20 overs.
Australia lost the first wicket in the second over of the innings when Nasum Ahmed set out Christian to the pavilion. Mathew Wade was looking in good form after he hit a couple of fine boundaries.
Nasum came to deliver his second over and took the wicket of Mitchell Marsh.
After the powerplay, Shakib comes into the attack and does his job by dismissing the dangerous Mathew Wade.
Ben MCdermott gave some hope to the team by playing a couple of fine shots but couldn't stand his team on the winning side when Mahmudullah took his wicket by a flatter delivery and finished his innings.
Australia was in a very critical situation as they lost six wickets with just 54 runs on the board after 11 overs. Australia keeps losing the wickets and went on to their knees.
No Australian batsman was able to show enough fight as a result the visitors got bundled out for 62 inside 14 overs.
Bangladesh won the final and last match of the series by 60 runs to lead the five-match series by 4-1.
"I am very happy for the boys. The team management has helped us. The boys have shown a lot of hunger. We have executed our plans really well. We have kept our nerves. The bowlers have done well. Credit to them…We can't let anything pass our way in our conditions because I think we are a very good side at home. Our team has very good potential in T20s despite the rankings not showing it. We would want to dedicate this series win to the Father of our Nation and his family."

Mahmudullah said.
Meanwhile, Shakib al Hasan was quite impressed by the performance of his team and he says that a 4-1 victory over Australia in the five-match home series gave them a lot of confidence before T20I World Cup.
"Even though the scorecard doesn't show it but it would definitely make us much more confident for the upcoming World T20. There is also an upcoming series against New Zealand,"

Shakib said.
"I think it will be good preparation. Maybe the batsmen wouldn't be able to score many runs, as we've been playing on slow, low, and turning wickets, but at the end of the day, winning is the most important (thing). If we have confidence in ourselves, then the morale of the team will also be at a higher place, and our winning mentality will grow in the process.
"We feel an added motivation to play against the teams that don't often tour Bangladesh regularly. After a successful tour of Zimbabwe, every one of us was motivated that they have to play well in this series as we had never won a series against Australia."
During the last T20I against Australia at Dhaka, Shakib became the only batsman to pick up 100 T20I wickets after Lasith Malinga and he shared his achievement with his coaching staff and teammates.
 "It definitely feels good when I earn an achievement like this, as personal achievements always motivate me to play even better for the team,"

he pointed out.
"But it wouldn't have been possible if I hadn't had the help from all the teammates I have played with throughout my career. Their support, along with the support from the coaching staff, the audience, was very important for me. I'm very happy, and I'd like to contribute to the team for a long time."