South Africa beat New Zealand by 198 runs to level the series at Christchurch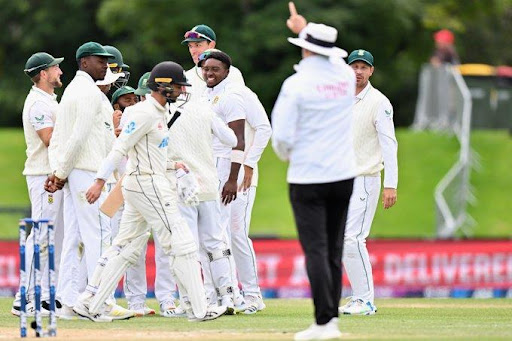 Kagiso Rabada, Marco Jansen, and Keshav Maharaj picked up three wickets each in the fourth inning to seal the victory for South Africa by 198 runs
South Africa turned things upside down in the second Test at Christchurch on Tuesday to break the hopes of a series win for New Zealand and took the victory with a huge margin of 198 runs to level the series by 1-1.
South Africa, after suffering the second-worst Test defeat in the first meeting at Christchurch, bounced back strongly at the Hagley Oval, dismissing the Kiwis on 227 in the second innings just after tea on day 5.
Meanwhile, the Kiwi batter Tom Latham said that the visitor's fine batting performance on day 4 of the second Test made the difference between both sides.
Followed by Kyle Verreynne's remarkable maiden Test hundred and useful bowling contributions from Kagiso Rabada and Wiaan Mulder, South Africa put on the crucial 214 runs on Day 4 to set a massive target of 426.
"From 1-0 to here is quite disappointing on our front,"

the New Zealand skipper said. 
"We knew coming in that we had to front up again and we knew South Africa were going to bring their best. Unfortunately, we weren't able to stick with them for long enough [on day four] and get those breakthroughs. They were able to put a good score and then coming into our second innings, we couldn't build partnerships, especially among our top four.
"I think there were times throughout the Test match where momentum shifted from team to team. We were able to stay with South Africa for long periods but they managed to get their heads in front yesterday with lower-order partnerships. From a batting point of view, we were unable to do that. If we were able to do that, things might have looked different. Both in the first and second innings,"

he added.
Also, the Hagley Oval track offered great support for the spinners in the second innings as the African left-arm spinner Keshav Maharaj took three wickets in the innings. Latham, however, didn't feel it a mistake of not picking up a spinner by the home side.
"I don't think we missed a spinner. Regardless of what side we put on, we have a way we like to go about things. Even though the wicket was slightly flatter, there wasn't a huge amount of turn and we certainly thought we had a team that was good enough to win.
"Certainly happy with the side we have. We have full belief in the side we have and the XI we put out. From a batting point of view, in New Zealand, some surfaces – sometimes it is not easy, sometimes it is not your day, and I think we've shown over long periods that we can be successful on these wickets. We had a couple of guys missing who will come back to the squad and then we will reassess."
However, New Zealand would have hoped to win each of the Test matches they played in the summer. Although, they lost a Test match against Bangladesh followed by today's defeat against South Africa at the Hagley Oval.
New Zealand also recently lost a Test series against India at their home ground and now standing at the sixth position on the ICC World Test Championship points table. They are next scheduled to tour England and Pakistan, besides playing a home series versus Sri Lanka.
"As a whole, we had four Test matches in New Zealand and wanted to win them all, and unfortunately we weren't able to do that. We played some good cricket in between and there were a couple of games where we didn't quite play our best. We've got three Tests in England as our next tour and the goal there will be to win three Tests over there. From an England point of view, we played a couple of Tests over there last year [including the WTC final against India], so conditions are familiar.
"Obviously you set out to win every Test at home. When we head to England, it will be important we shift our focus to that and win that series over there. Whatever Test it is, whether the first of a championship cycle or the last one, you always set out with the ambition of winning. So we now focus on the next Test match."