Ryan Sidebottom is impressed by Axar Patel's effortless performance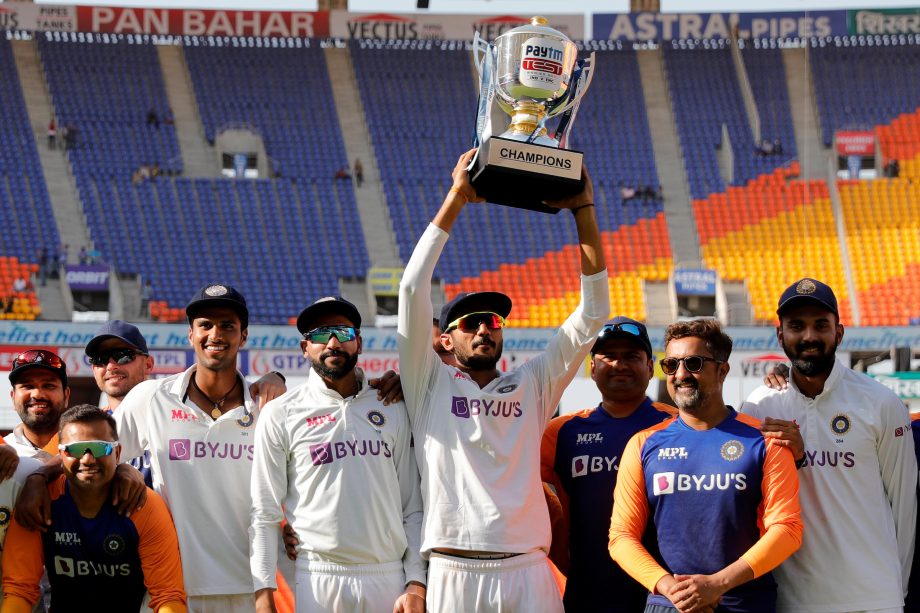 Axar Patel lifts the trophy for India after his stunning debut series
As Team India lifted the Anthony De Mello trophy, the team of England was left to rethink about their current position in test ranking. With 3-1 series win for India, it all started well for England as they won the first test with a landslide victory of 277 runs. After the first test, it felt like England's London bridge was falling down brick by brick. They actually surrendered for the rest of the matches in the series.
As the Anthony De Mello series has come to an end, team India has proven again that no matter what, India is the original land of spin bowling. With four five wickets & one 10 wickets tag, Axar Patel claimed 27 wickets in 3 tests. He became the second highest wicket taker after Ashwin who's number was 32 wickets in 4 tests. Former England cricketer Ryan Sidebottom, in his exclusive interview with TOI, said
"R Ashwin is an outstanding cricketer. He bats brilliantly, bowls, fields. More than that, I am impressed & surprised by Axar Patel's performance in the series. It was great to see him coming out & taking the charge for the wickets. They bowled straight. Some went on with the arm and some spun. It was a perfect combination of experience on home soil & technique".
India to Play New Zealand in final of World Test Championship
After winning this series, India has entered the final of the World Test Championship, against New Zealand, which is going to be in June this year. India's major push to enter finals were the win against Australia (2-1) in Australia & now against England in India. Sourav Ganguly, BCCI President, announced that the final is shifted from Lord's to the Ageas Bowl in Southampton. Initially it was supposed to be held at Lord's but now its shifted to Southampton which makes it easier for ICC & the England & the Wales cricket club to build a bio bubble for the players.
The Southampton pitch is said to be slower as compared to Lord's, which puts India on advantage in comparison to New Zealand, as India's spin attack will benefit more from it.
The BCCI president, who was on a medical break, after going through a bypass surgery, is expected to travel to the UK for the final.
As of Now, Team India will face England in five match T20 series & then a three ODI series. All the t2o series will be played in Ahmedabad at Narendra Modi Stadium.