Rohit Sharma says India were 20-30 runs short against England in World Cup 2023 match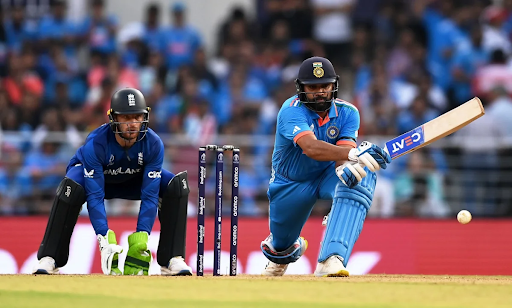 India captain Rohit Sharma scored a match-winning 87 for India against England in challenging conditions in Lucknow.
Indian captain Rohit Sharma believes that his team was short by 20 to 30 runs against England in their World Cup match in which they were victorious by 100 runs in Lucknow to maintain their unbeaten run in the competition.
After scoring 229/8 batting first, Indian bowlers put out a fantastic performance to bowl England out for just 129 in 34.5 overs in their World Cup match to record their sixth consecutive victory in the ICC 50 over World Cup being played in the country.
Rohit Sharma was himself among the top performers for India as he scored a fabulous knock of 87 came from 101 balls and included 10 boundaries and three sixes.
Apart from Rohit Sharma in the top order, no other batsmen could make a mark for India in the game in which Suryakumar Yadav scored his first important runs in the history of the competition, but missed out on a half century when he was dismissed for 49 from 47 balls with four boundaries and a six.
"It's just not about going and playing my shots, when you have that much experience you've got to use that experience and do whatever is necessary for the team, and it was at that point in time necessary for me to take the game as deep as possible and create that partnership and get to a decent total,"

Rohit Sharma said after India won the game and went to the top of the table once again in the ongoing World Cup.
The Indian captain Rohit Sharma, who has been in terrific form in the ongoing World Cup, said that it was very difficult to rotate strike when the ball became soft as scoring was generally very difficult for batsmen from both the teams at the Bharat Ratna Shri Atal Bihari Vajpayee Ekana Cricket Stadium in Lucknow.
"I still felt like we were 20-30 runs short once we finished. The new ball was a bit challenging and then obviously as the game went on the ball got softer, it was not easy to rotate strike. But we said in the middle that we've got to keep digging in, keep digging in and then, finally, you know we got to a decent partnership there, but like I said we were 20-30 runs short towards the end," said Rohit Sharma.
Rohit Sharma said that losing wickets at the top in the powerplay is never an ideal situation and once the team had lost three quick wickets in the form of Shubman Gill, Virat Kohli and Shreyas Iyer, it became important for him to rotate the strike and look for long partnerships to bring India back into the contest.
England did very well with the ball to restrict a confident Indian batting line-up for moderate total Indian World Cup clash but they were poor with the bat once again, failing to cross the 200-run mark for the third time in the tournament in a row and staring at a huge challenge as far as the future is concerned.
"We were not great with the bat today, losing three wickets in the first powerplay isn't the ideal situation but when you are in a situation like that all you are looking to do is create that long partnership, which we got. But then a couple of guys threw it [away] at the end, including myself,"

Rohit Sharma said. 
"But at that stage all I was thinking was to be positive and the balls in my areas I wanted to put it away. That's how you put the pressure back on the bowler and the opposition as well but, yeah, when you look at the overall picture, I thought we were 30 runs short there," the Indian captain added.
However, Rohit Sharma was incredibly proud of the Indian bowling attack as its fast bowlers were once again at the top form with the pair of Mohammed Shami and Jasprit Bumrah causing a lot of damage to the England batting lineup.
"So you know when you have a bowling line up like that, it's very important that the batters put the runs on the board, give them something to work for and then rely on them to do the magic."