Rahul is replaced by Kishan in the Indian Test team for the WTC championship game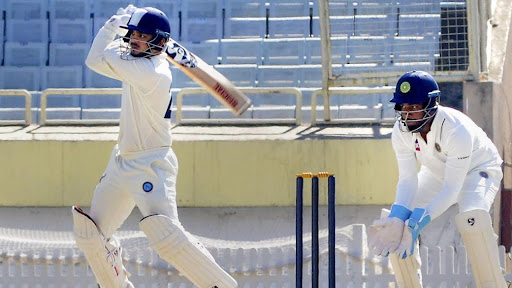 Ishan Kishan has not received a Test cricket cap.
In the Indian team for the World Test Championship (WTC) final against Australia at The Oval in June, KL Rahul, who was injured, has been replaced by Ishan Kishan.
The WTC final and the remainder of the IPL were missed by Rahul, the Lucknow SuperGiants captain, due to a thigh injury.
According to a BCCI release, a decision about Jaydev Unadkat's participation in the WTC final would be made later. He injured his left shoulder while training for the IPL.
Although he hasn't received a Test cap, Kishan has played in 14 ODIs, 27 T20Is, and was a member of the Test team for the home series against Australia prior to the IPL.
After KS Bharat, who just made his Test debut against Australia in February of this year in Rishabh Pant's absence, he is the second wicketkeeper in India's WTC squad. In the four Test matches, he pitched six innings, scoring 101 runs overall with a best score of 44.
Kishan played just two games during the most recent Ranji Trophy season but managed to score 180 runs while averaging 45. He has played 48 first-class matches so far for 2985 runs at an average of 38.76 with six hundreds.
Rahul will now have surgery and will afterwards travel to the National Cricket Academy (NCA) in Bengaluru for rehabilitation, as he had previously indicated on social media.
Unadkat, another member of KL Rahul's LSG club, will miss the remainder of the IPL due to an injury. After getting his scans, he proceeded to Mumbai to see a specialist consultant that the BCCI had hired.
Following a hamstring injury sustained on April 26 while competing for Kolkata Knight Riders against Royal Challengers Bangalore, Umesh Yadav has also been added to the list of injured players.
Since then, the fast bowler hasn't competed for KKR but has resumed "low-intensity bowling". Umesh is being made fit by the BCCI medical staff, who are also "closely monitoring" his development.
Ajinkya Rahane, who last played a Test in January 2022, might rejoin India's XI in Rahul and Shreyas Iyer's absence due to injuries.
Rahane's ambition to compete in the Ranji Trophy was cited as one of the player's main differentiators by former India coach Ravi Shastri, who supported Rahane's selection to the team.
After previously promising to play eight red-ball games and the whole 50-over campaign, Rahane's comeback means that his county championship debut with Leicestershire is likely to be postponed.
Cheteshwar Pujara, who has already arrived in the UK and is in superb form, has scored three hundreds in as many county cricket games for Sussex.
In the meantime, Mukesh Kumar, Suryakumar Yadav, and Ruturaj Gaikwad have been selected as the WTC final's reserve players. Only Suryakumar among them has played in a Test match, making his debut against Australia at Nagpur in February.
Shubman Gill, Cheteshwar Pujara, Virat Kohli, Ajinkya Rahane, KS Bharat (wk), R Ashwin, Ravindra Jadeja, Axar Patel, Shardul Thakur, Mohammed Shami, Mohammed Siraj, Umesh Yadav, Jaydev Unadkat, and Ishan Kishan (wk) make up India's final World T20 roster.
Mukesh Kumar, Suryakumar Yadav, and Ruturaj Gaikwad are the backup players.