Pakistan beat Netherland by 9 runs in the third ODI to seal the series title by 3-0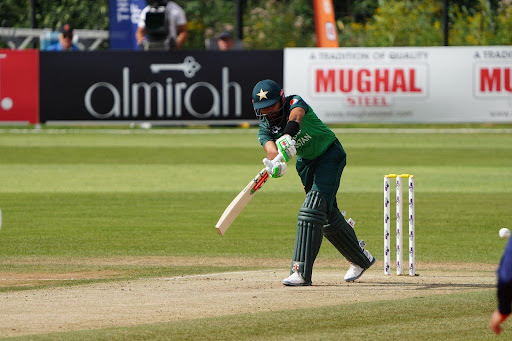 Naseem registered career-best figures of 5 for 33, with Wasim backing him up with 4 for 36
Pakistan nearly paid the price for extreme caution with the bat, but standout bowling performances from Naseem Shah and Mohammad Wasim saved their blushes and sealed the series 3-0.
Pakistan had won the toss and elected to bat first. After they opted to bat, Shafique had the opportunity to impress straightaway, but Vivian Kingma struck early once again.
Kingma and Dutt kept things more tightly than a taxman's satchel, never allowing Pakistan any opportunity to speed up. The fielding was energetic, and with the players finding the defenders with most shots, Pakistan started to feel choked.
Neither Fakhar Zaman nor Babar Azam could split away, and even when there were changes in the bowling, an adjustment of fortunes for Pakistan didn't go with them.
The pressure finally got to Fakhar, who went for a huge heave against Logan van Beek, only to be beaten by the pace and have his off stump rattled. The Netherlands only squeezed harder, with the run rate continuing to snail along well under four.
Babar was inquisitively detached through the innings and the disappointment of the inexperienced middle order to capitalize made his wicket significantly more important.
It didn't come until fairly late in the innings, but his failure to break free meant he couldn't inflict much damage anyway. It was Dutt, the pick of the bowlers, who disposed of him for the second time this series, taking an eminent one-handed catch off his bowling.
Dutt had deserved it more than maybe some other bowler, his figures of 10-1-34-1 simply compensations for a thrilling appearance.
The last couple of overs saw Pakistan attempting to speed up, just for the Netherlands to shackle them further. The odd four or six gave hopes of a change in momentum, but it was quickly followed by wickets.
No. 10 Zahid Mahmood struck a six in the penultimate over, however, Kingma got back to assist the Netherlands with getting the last two wickets.
Pakistan was bowled out on 206 while Babar scored 91 to help the side to post some good runs.
The Netherlands sniffed an opportunity, but they were abundantly cautious early on, and Naseem, as he had done all series, continued to punch holes in their batters' defenses.
Max O'Dowd played at one that nipped away to cap an indifferent series before Naseem cleaned up Musa Ahmad with a ball that held its line from around the wicket.
Wasim, who replaced the somewhat less potent Shahnawaz Dahani, accepted the responsibility from the other end, sending de Leede back after he nicked one through to Mohammad Haris.
The target was relatively low, and the hosts were never out of the game, all they needed was a single partnership to give Pakistan a genuine dread.
Vikramjit and Cooper started to remake after the early blows, the previous' three progressive boundaries off Wasim an unmistakable sign of goal. The pair looked agreeable against most Pakistan bowlers.
Pakistan wanted someone who provide them with a great breakthrough and for that, Babar went to Wasim. In the second over of his new spell, he sent Vikramjit to the pavilion.
Naseem, was not to be outperformed, eliminating Scott Edwards in his most memorable over back with a fantasy conveyance that beat the external edge of the bat and crunched into off stump.
Naseem Shah and Mohammad Wasim saved their blushes as they hopefully managed a nine-run win in the third and last ODI in Rotterdam and fixed the series 3-0.
Pakistan 206 (Babar 91, Nawaz 27, de Leede 3-50, Kingma 2-15) beat Netherlands 197 (Cooper 62, Vikramjit 50, Naseem 5-33, Wasim 4-36) by nine runs.