Nigar Sultana is happy to have Jahanara back in the squad for its first ICC 50-over World Cup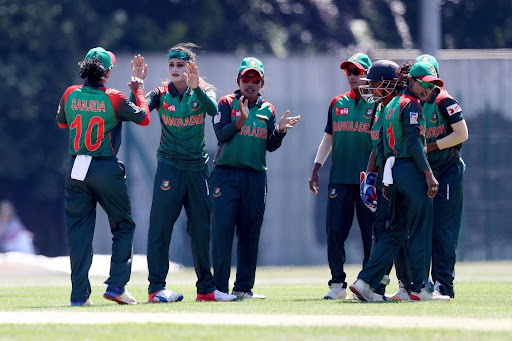 ICC/ Twitter
Bangladesh women's skipper Nigar Sultana said that she is happy to have Jahanara Alam back in the squad in the 50-over World Cup while the Bangladesh team will fulfill a 10-day quarantine period after arriving in New Zealand.
Nigar Sultana, the Bangladesh skipper, said on Tuesday that she is glad to have Jahanara Alam back in the squad for their maiden ICC World Cup campaign.
The addition of Jahanara in the ICC World Cup squad was the question of selection, seeing the experienced fighter fails to cut in the commonwealth games qualifier due to disciplinary issues.
"Jahanara Apu is an experienced player and she is our best fast bowler,"

Nigar told reporters on Tuesday.
"So her presence in the team is a big relief as we can depend on her. She always helps me and the bowling unit and that is the most important thing. I am very happy that she is back in the team."
Bangladesh women's team will fulfill a 10-day quarantine after arriving in New Zealand, had a five-day training camp at the BCB National Cricket Academy from January 29 before their departure, scheduled on February 4.
Nigar added that their biggest challenge will be adapting to New Zealand conditions and added that though they failed to qualify for the Commonwealth games, they still had good preparation in Malaysia for the global event.
"We will practice there (New Zealand) as much as possible on our skill-set. At first, we may face some problems adapting there and that will be the challenge,"

said Nigar.
"As far as I know, many have spoken to our men's team players who have played in New Zealand and they took the ideas about the wickets, conditions, and what will be the major challenge to adjust in those conditions.
"Overall, I think as we have time in our hands we will be able to overcome the conditions. We will play two official warm-up matches before the tournament and so I think the preparation will be good.
"We recently played in Malaysia and the wickets in Malaysia were bouncy especially the side wickets where we practiced because we wanted to make sure that whatever we did there (Malaysia) should help us adapt in New Zealand. 'There are some wind factors in New Zealand and we got the same in Malaysia. Maybe the result didn't favor us but we had a good preparation."
Sultana said that Bangladesh isn't looking too far ahead.
"We are going to play the World Cup for the first time, so we have to be reasonable about our expectations. We will play match by match as a team and when we will play, we will be understood that what will be our actual goal,"

she concluded.
Bangladesh will start its first 50-over World Cup campaign against Proteas on March 5 at University Oval, Dunedin.