"Naturally our goal is the 2023 World Cup," says Bangladesh ODI skipper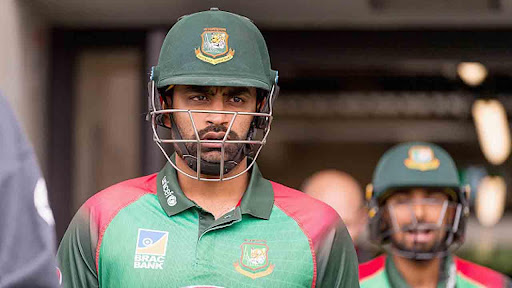 Tamim Iqbal says he is getting an idea what kind of combination he needs
Bangladesh ODI captain Tamim Iqbal said that he is getting an idea about how his side is shaping up for next year's 50-over World Cup while he highlighted that he won't say my team is fully ready.
Bangladesh ODI captain Tamim Iqbal said that he is getting an idea about how his team is shaping up for next year's 50-overs World Cup.
Bangladesh clean-swept West Indies in the ODI series and seem to have a diagram for outcome in the format, having walked to victory in the Caribbean despite missing three central players Shakib Al Hasan, Mushfiqur Rahim, and Yasir Ali.
"Naturally our goal is the 2023 World Cup and there is no doubt about it and we are in that process( of building the team for the tournament) but to be honest I don't want to look too far ahead because you never know what will happen and things like that as to who is injured and who is there in the team and who is not,"

he said.
"But I can say I am getting a little bit of idea about what kind of combination I will be playing if one or two key players are missing due to injuries. I won't say my team is fully ready and all those things but we are getting some ideas for sure,"

added Tamim, who has now won five ODI series as captain.
Tamim offered a fair warning amid idealism, expressing that his side had numerous areas of progress and wouldn't be drawn into rating the series win too exceptionally given the turning idea of wickets.
"I don't want to rate this series very highly. We have won the series but I am not too excited about it because there is too much help for spinners on this wicket and that is why it is not like we have won the world. When we play on better wickets we have to be better to win the games. I know the wicket was difficult but not unplayable. if we could chase these runs by seven by eight wickets then we could have said that there was some improvement,"

said Tamim.
"There was a time when it looked games I might go this way or that way and these are the small things that we have to look at. When you play on better wickets and against better opposition, you never know and you might be in trouble. There are a lot of areas to improve both in batting and bowling and just because we are winning all the problems are not solved.
"We have problems and I am surely slowly we are ticking all the boxes. When a team wins, at the point people tend to hide the weak points but I don't think that way because when you are winning it is the right time to identify that we are having problems in these areas. I am trying and I am hoping that it will be good in the future,"

he said.
"When I spoke with the management (about testing the bench strength) they felt we should go with the full strength and we did that. We were supposed to make one change because we knew that we will be playing on the same wicket again and so we decided to play Taijul in place of one pace bowler. But I had the wish (to see bench strength) as I said earlier but I am convinced with what the management said because I felt when the team is doing well we should finish it off as well.
"I think going forward we must see the bench strength or else how can I understand Taijul or Mossadek have those qualities. We have to see the bench strength and we might not change five players at the same time but if we can do with one or two players, it is better and that is how we should move forward. The best teams in ODIs do it that way and when they win the series they change their team. Probably we have to be a bit braver to do it because we have never done it before and we must understand that as there is confusion but I am sure in future you will see people will get lot more chances,"

he said.