Most wickets by Fast Bowlers in international cricket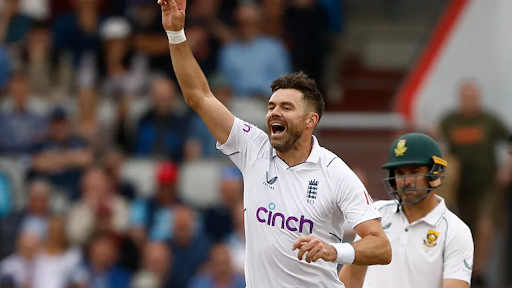 James Anderson claimed his 950th international wicket to surpass Glenn McGrath
The 40-year-old James Anderson is just getting better with age as he took his 950th international wicket against the Proteas on Saturday. With this feat, he has overtaken Australian legend Glenn McGrath, who has 949 wickets to his name. Anderson's remarkable show at Old Trafford helped his side clinch victory by an innings and 85 runs.
With this achievement, he is now the most successful pace bowler of all time in international cricket. James Anderson dismissed Simon Harmer to accomplish this feat. The wicket left the electrifying crowd erupting, who celebrated one of the biggest achievements by their countrymen. As Jimmy achieved this historic feat, let us showcase to you the list of top fast bowlers with the most international wickets. Starting with the bottom, here is the list:
#6 Waqar Younis (789 wickets)
One of the most deadly bowlers of all time, Waqar Younis led Pakistan's pace-attack for a long period of time. He has 789 international wickets to his name. The star bowler from Pakistan commenced his international career with a Test match in 1989, the same match in which Indian legend Sachin Tendulkar made his debut. Waqar bagged four wickets in the drawn match, including the wickets of Master Blaster and Kapil Dev.
Waqar had a remarkable international career and he tasted success in both formats of the game. In 87 Test matches, the legendary bowler took 373 wickets at an impressive economy of 3.25. Waqar's bowling average of 23.6 in Test cricket made him one of the top wicket-taking bowlers of that time. He picked up a 4-wicket haul 28 times and a 5-wicket haul 22 times during his Test career.
His ODI performance was impressive as well, with 416 wickets to his credit in 262 matches. The economy of 4.68 as compared to Test cricket was a bit higher, which is obvious in ODIs. He took 4 wickets in an innings 14 times, also 13 fifers while wearing the green jersey.
#5 Stuart Broad (798 wickets)
Englishman Stuart Broad has been a terrific bowler for England, especially in the red-ball format. He is no longer a part of ODIs and T20Is now but had a fair career to remember. Just like James Anderson, he is a regular part of England's Test squad where he leads England's pace attack with Anderson. Overall, Stuart Broad has 798 international wickets, which keeps him ahead of Waqar Younis in this list of legends.
Broad is an absolute legend in Test cricket, with 559 Test wickets to his name, including 19 fifers. He has a magnificent economy of 2.95, which is incredible for any Test bowler. The 36-year-old didn't have a bad ODI career as he claimed 178 wickets in 121 matches. In T20Is, the right-arm pacer took 65 wickets at an economy of 7.63 in 56 matches. For any fast bowler, it is extremely difficult to prolong his career in all three formats, but Broad has done exceptionally well in other formats as well, apart from test cricket.
#4 Shaun Pollock (829 wickets)
This time, it's a South African who makes the cut in the list of the greatest fast bowlers of all time. Pollock has played an enormous amount of international cricket, including T20Is as well. The all-rounder from South Africa started his international career in 1995 and went on to play till 2008, including the inaugural edition of the IPL.
With an overall tally of 829 wickets, Pollock picked up 421 Test wickets in his rich Test career with an economy of less than 2.5. With over 100 Tests to his name, the legend from South Africa took 23 four-fers and 16 fifers.
He had an even better ODI record, with 393 wickets in 303 matches. With the new ball, Pollock had the ability to put any batsman under pressure with his swing. The South African has 15 T20I wickets as well. He played in the inaugural T20 World Cup held in South Africa in 2007. What makes him one of the best South Africans to have ever played the game is his all-round skills, as he smashed 3781 and 3519 runs in Tests and ODIs respectively.
#3 Wasim Akram (916 wickets)
Wasim Akram, widely regarded as the greatest left-arm pacer of all time, has ruled world cricket with his furious pace for around 20 years. Akram started his career in 1984 and took retirement just after the 2003 World Cup. He enjoyed his tremendous career by sending batsmen back to the pavilion 916 times in his career.
In Tests, Akram had 414 wickets at an impressive economy of 2.59. He took 25 fifers in his long career of 104 Test matches. Popularly known as the 'King of Swing', Akram played every possible role in Pakistan's jersey. He was handy with the bat, won numerous matches with the ball, led the side on various occasions, etc. Some critics also call him the 'Reverse Swing King' because of his ability to bowl unplayable reverse swings. His bouncers were even more dangerous.
The Pakistani legend tasted success in ODIs too, with 502 wickets in 356 matches at an economy of less than 4. This shows how good he was with his skills. Akram is currently a cricket commentator and has been involved in several cricket-related shows.
#2 Glenn McGrath (949 wickets)
One of the finest Australian bowlers, Glenn McGrath, has been a nightmare for most of the legends who played during his time. Be it Sachin Tendulkar, Brian Lara, Rahul Dravid or anyone, McGrath has been terrific against all of them on most occasions. He has 949 wickets to his name, including 563 Test wickets and 381 ODI wickets. The baggy green player played just 2 T20I in his career but picked up 5 wickets there as well.
His accuracy and consistency made him one of the greatest fast bowlers of all time. The economy of less than 2.5 in Test cricket and less than 4 in ODIs is a magnificent record. He played for 14 years for Australia, with his career beginning in 1993. McGrath took retirement from the game after the 2007 World Cup, which Australia won after beating Sri Lanka in the finals.
#1 James Anderson (951 wickets)
Over 950 wickets as a fast bowler in international cricket is an achievement to be remembered for ages. James Anderson has proved why England invented cricket. The right-arm fast bowler has recently turned 40 and he is proving to be better day by day. The in-swing deliveries are still upsetting the batsmen, who are also in their prime form.
Anderson took charge of English bowling in the year 2003 and has not looked back since then. He has been out of the team on many occasions due to injuries, but every time he made a spectacular comeback and grabbed all the attention.
The English legend has played 174 Test matches and is still going strong. He has 664 Test wickets to his name with 32 fifers to his name. He played ODIs till 2015 and left an incredible record of 269 wickets in 194 matches. In 2015,
Anderson decided to opt out of the ODIs in order to focus on one format, and his decision proved to be excellent, as we can see today. His next target would be to complete 1000 wickets in international cricket. By doing so, he will become the first and probably the only one for many years to come to achieve this historic feat.