Mohammad Rizwan, Shaheen Afridi nominated for Sir Garfield Sobers Award of the year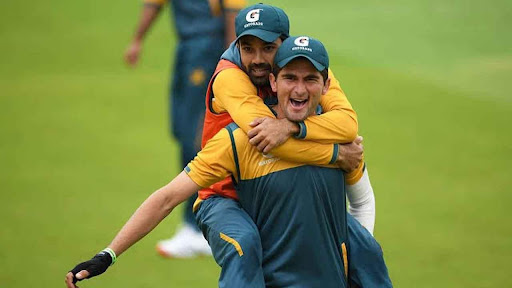 TOI Sports/ Twitter
Match-turning knocks, sizzling bowling spells, superhuman efforts, and impeccable leadership – the four nominees for the Sir Garfield Sobers Trophy for the ICC Player of the Year had a year to remember in 2021. Let's take a look at their efforts and celebrate their big achievements.
Alongside Mohammad Rizwan and Shaheen Afridi, England skipper Joe Root and New Zealand skipper Kane Williamson were among the nominees for Sir Garfield Sobers Trophy for the ICC Player of the Year.
Joe Root – England skipper
Achievement: 1855 runs in 18 international matches at an average of 58.37 with 6 centuries.
England's Test skipper Joe Root has enjoyed the year 2021 that will go deep down in the pages of the cricket history books. Firmly establishing himself as a skipper and a remarkable batter for England's in the Test cricket, he has often served the cause of the lone man standing for his side. His year began with a superhuman knock of 228 against the Sri Lankan team in Galle and he has only gained more strength after each step.
He cherished up his superb knocks against Sri Lanka followed by a memorable play in Chennai, a brilliant 218 against India in the Test match. He continued his sublime form against India in the Test series at home, marking 564 runs in four matches with three centuries to his name. His brilliant performance took him to reach the milestone of the MRF Tyres ICC Test Player Rankings for batting, where he was dethroned by Australian Marnus Labuschagne.
Despite failing to convert best starts into the biggest scores and losing the Ashes to Australia, Joe Root remains the best batting performer from England against the opponents in the Ashes.
On achieving the bigger milestones individually, Joe Root expresses satisfaction but he also added that winning matches for England was his top priority.
He stated,
"As nice as it is there's still so much hard work to do and the focus doesn't change, it's all about trying to continue getting better, continue scoring runs, and hopefully winning Test matches. It's not something that I have as a goal or the main focus in what I'm trying to do. I'm proud to hear I've achieved that and it would be nice to stay there now."
Shaheen Afridi – Pakistan left-arm pacer
Achievement: 78 wickets in 36 internationals at an average of 22.20. Best bowling figures of 6/51 78 wickets in 36 internationals at an average of 22.20. Best bowling figures of 6/51.
The tall and furious Pakistani pacer was on fire throughout the year 2021, knocking some of the bigger fishes in the business over across all three formats of the game in crucial times. He especially had a year to remember in Tests and T20Is, reaching his absolute peak during the T20 World Cup in UAE where he impressed everyone with his speed, variation, line and length, and impressive skills.
He scalped 7 wickets in six matches of the T20 World Cup 2021 and played an impressive role in Pakistan's unbeaten race to the semi-final. He ruled the shortest format throughout the calendar year, scalping 23 wickets in 21 matches with his initial spells as good as we like and death bowling improving by each day.
After a lousy start to the year in Test cricket in New Zealand, Afridi picked up himself to the game during the home series against South Africa. He performed his brilliance against South Africa and never let that down throughout the rest of the year in the away tours of Zimbabwe, West Indies, and Bangladesh. Overall, he picked up 47 wickets in only 9 matches at the mind-blowing average of 17.06.
Swing, seam, the sheer pace, and sizzling yorkers – Shaheen Afridi had it all in the year 2021.
A high-pressure encounter against India in Dubai backs in October 2021saw the wonders of Shaheen Afridi. The T20 World Cup tournament opener for both sides which will be remembered in history has seen Pakistan bamboozling India in a one-sided encounter. It won't be unfair to give credit to Afridi's opening burst that changed things for Pakistan once and all.
The numbers (3/31) simply do not do justice to what everyone witnessed from Shaheen on that fateful day in Dubai.
Indian captain Virat Kohli himself couldn't stop praising the young and sharp pacer. Kohli said in a post-match:
"He put our batsmen under pressure immediately with the new ball, and he ran in with intensity and showed that he's bowling inconsistent areas, so as batsmen you are forced to be a bit watchful.
"That spell kind of put us on the back foot immediately, and from there on to get those extra 20, 25 runs, in the end, seemed pretty difficult when you lose three wickets for 20 runs."
Kane Williamson – New Zealand skipper
Achievement: 693 runs in 16 internationals at an average of 43.31 with one century.
Kane Williamson's 2021 cannot be rated only for the runs that he scored. It was also his leadership role that helped the Blackcaps reach another height in all the formats this year. However, none of the achievements can be compared with the ICC World Test Championship Final victory against India in Southampton.
Williamson played a crucial role in the final against India with the bat as well as a great leader, scoring a vital 49 in the first innings against a quality bowling unit in conditions that were more favorable for the seamers. He then brought up a crucial 52* in the run chase of 139, taking his side across the line before lifting the ICC World Test Championship mace.
His leadership gained further colors in the recent T20 World Cup in UAE and Oman, with his tactical runs hitting technique and leadership skills to help New Zealand reach the final. After a dull performance with the bat throughout the tournament, Williamson finally put up some show in the final of the T20 World Cup against Australia at Dubai but unfortunately, his 43-ball 85 could not propel his side to seal the title.
Muhammad Rizwan – Pakistan wicket-keeper batter
Achievement: 1915 runs in 44 internationals at an average of 56.32 with 2 centuries and 56 dismissals.
The Pakistan wicketkeeper-batter ruled the game in 2021 single-handedly when it came to the shortest format of the game. With a remarkable acceleration of 1326 runs in only 29 matches, Rizwan struck with an average of 73.66 and a strike rate of 134.89. Apart from his destruction with the bat, he was as solid as rock behind the stumps, playing a crucial role in Pakistan's run to the semi-final during the recently concluded T20 World Cup.
Rizwan also improved his game in Test cricket, scoring 455 runs in 9 matches at an average of 45.50. Meanwhile, the reason behind Rizwan's success is his consistency across all the formats – whether it is getting Pakistan off to flying starts in the T20Is or normalizing things in the lower order in Test cricket.
With some tough and bigger assignments coming up in 2022, both home and away, along with a T20 World Cup, Pakistan will depend heavily upon the ever-dependable Rizwan to leave a mark.