Matt Fisher makes the strongest case for being England's second coming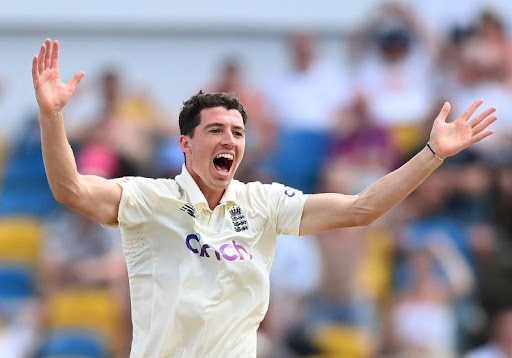 In Test cricket, Matt Fisher took a wicket with his second ball
Nearly a year has passed since Matt Fisher made his Test debut against the West Indies in Barbados, and in many ways, that one-time performance encapsulates the promise and frustration that have accompanied his career ever since his Yorkshire debut as a 17-year-old eight years ago.
On a flat Bridgetown surface, Fisher's first Test ball resulted in the dismissal of John Campbell, showcasing his potential as a wicket-taker.
However, in 27 overs of arduous yakka, this would be his only wicket. Like so many of his fast-bowling friends, he had suffered a stress fracture before he had the chance to take advantage of his opportunity in the English summer.
Add it to the litany of setbacks Fisher's career has already experienced, which includes shoulder dislocations, broken thumbs, and shoulder strains in addition to hamstring and side strains.
However, as he prepares for this week's England Lions visit to Sri Lanka, he is determined not to let his tragedy get him down. Instead, he is eager to highlight the effort that has gone into his rehabilitation over the past year.
"There were a couple of days of being down and really upset, but I was very quick to get back to 'what can we do?', 'how can we sort it out?' How can I be better next time so that it doesn't happen?" he says. "If you improve every single part of your game then hopefully you are giving yourself the best chance to not get injured. I have just tried to do that."
Fisher still has time to demonstrate his Test credentials at age 25, but the cricketer who makes a comeback in an England jersey in the coming weeks will look very different from the one who first appeared in the team's colors.
He has specifically bulked up, packing on 5 kg of muscle to his formerly willowy frame, in an effort to present a more robust product to the selectors for the 2023 season.
"Literally, looking in a mirror I just thought, I don't look as robust as some players I've seen this winter and maybe that's something to look at,"

Fisher says. 
"I basically said to our S&C [strength and conditioning coach], 'I want you to make me look like an Australian fast bowler', because they all seem to look solid. Cummins, Hazlewood, Starc, they all look pretty strong."
"I ate loads that first three months,"
"It wasn't Maccies [McDonald's] and stuff like that, but it was just to get so much in where you can't eat any more, so you can build the muscle, and then once you start playing and bowling again then it drops off, which it did.
"Sometimes in our sport we think too much about skin folds, a lot of lads get anxious about being slim enough. But I wasn't bothered about what my skinnies were at that point, my goal was to put muscle on, and that is the best way to put some weight and muscle on. I was doing loads of training at the time as well so I wasn't getting really fat.
"All throughout the summer, the coaches at Yorkshire and some of the players were like 'bloody hell, you look massive'. Around my chest I am a bit bigger and then my legs are bigger."
Fisher's quest for fulfillment consists of several components, including the stronger frame. In an effort to lessen the physical stresses that rapid bowling inevitably involves, he has also made technical adjustments during his leisure.
"I've tried to be a bit straighter with my back-foot contact," he says. "My back foot was getting into a side-on position, which is fine, but my feet were crossing over a little bit. Now they come down in a straight line and my back foot is pointing more towards fine leg rather than deep midwicket.
"So when that lands it is a lot straighter, so I flex from my hip and forwards, over both hips rather than a side bend over to one side of my hip, and you start falling over in your action and it takes a lot of strain on to the left side of your back, which is where I got my stress fracture.
It is basically trying to be a lot straighter with my feet and then hopefully that makes you straighter and more over the top of the ball when you release it.
"That is just me looking at my own action and thinking obviously my side flexion is not very good and how can I get it more straight. That was just me looking at my action and working on it with Kabir and Gibbo at Yorkshire."
Fisher has a number of role models, such as Darren Gough, Kagiso Rabada, and Dale Steyn, but the current quick who inspires him most is South Africa's quickest bowler, Anrich Nortje, according to Fisher.
"In the first two weeks after my injury, I looked at so many different actions of some of the best bowlers to have ever bowled,"

he says. 
"I don't want mine to look like this person because he's the quickest or he's rapid, but I want mine to look more like Nortje. It's technically very good, but it's his back-foot contact that I've tried to model myself on, because I thought that's what I want it to look like."
When it comes to James Anderson, the player Fisher replaced for that Caribbean tour but who later recovered to reach the pinnacle of his profession even after turning 40, Fisher admits that the strategies Anderson used to achieve his unmatched success may not be the ones for him to imitate.
"I love Jimmy and love watching him bowl, but I was so obsessed about getting side-on to be able to swing it out a bit more, that's where my feet cross-over came from. It was actually me trying to model myself too much on Jimmy that got me in a worse position.
"Looking back, I used to swing it without getting side-on, it was more from my wrist than anything else. That's stuff that I've learnt so hopefully, if anything, it's made me a lot more aware of my actions technically, which I think is a positive. It's better to learn that when you are still quite young."
Despite all the advantages Fisher has gained from his recovery, the disappointments of 2022 persist, not the least of which being the fact that he was unable to save Yorkshire's relegation from the Championship's top division after Warwickshire's amazing last-day escape.
As England's Test standards improved under Brendon McCullum and Ben Stokes, he was forced to watch from a distance. However, that experience served as a reminder of how much he wanted the opportunity to build on the promise of his England debut.
"'You just want to be a part of it because it looks like so much fun," Fisher says, having interacted with the Test squad while part of the England Lions training camp in Abu Dhabi before Christmas.
"The UAE tour was really good for us, they want us to play how the England team are playing, but they want us to work with our strengths, Above everything, it's just giving players freedom and the confidence to go and just enjoy it, and try and put pressure back on to the team that you are playing."
Fisher acknowledges that there was some discussion about him filling in for Mark Wood in Pakistan last winter, but that discussion was put on hold because it was decided that his rehabilitation wasn't quite far enough along. It is unclear at this point how prominent Fisher is in the selectors' minds.
The recovery of Olly Stone, Jofra Archer, and Saqib Mahmood suggests a good pool of quick options heading into the Ashes summer, despite the fact that Jamie Overton, another rookie in 2022, has already experienced his own stress fracture.
"I can't really control where I am in the pecking order, so for me it's just about bowling well and I know how fast it can happen,"
"It happened last winter, so I am just hoping for that again at some point.
"There's been indoor sessions where I am visualizing bowling at David Warner, so it's definitely in my mind. But in terms of it being a goal of mine this summer, it's not like on my wall or anything. If that happens, it happens. For me, it's just bowling well for Yorkshire and then hopefully I'll get another chance at some point."