Kane Williamson missed the Mumbai Test against India due to an elbow injury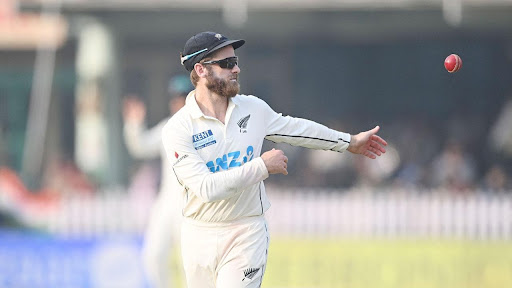 TOI Sports/Twitter
New Zealand skipper Kane Williamson was ruled of the second test game against India due to an elbow injury while he will also be dropped out of the next series at home against Bangladesh
New Zealand Head Coach Gary Stead has opened up that captain Kane Williamson is going through an elbow tendon injury.
Williamson has had issues with his elbow for at least two months. He was ruled out of the second test game against India in Mumbai recently.
Williamson will probably miss New Zealand's next series at home against Bangladesh which will begin from January 1.
"I think surgery is unlikely,"  

Stead said.
"With the tendon injuries around the elbow, my understanding of the situation from talking to our physio is all surgery would do is ensure rehab is done. If we don't have to cut a tendon, our choice is not to do that as well.
"So Kane is going along okay. I expect it to be a sustained period. Last time, if you look after the World Test Championship and before the IPL and T20 World Cup, was about eight or nine weeks. So, I expect it's somewhere in that time frame again. We're trying not to put time-frames on it at this stage."
Stead also highlighted that Ross Taylor has struggled with his bat in the Test series that sent his future place into the doubt.
"Ross has had a disappointing tour by his standards, but he's been an exceptional player for New Zealand for a long, long period,"

Stead observed. 
"So he's not the only guy that has come to India or Asian conditions and struggled over here.
"I think there are some factors behind it, with the lack of match-time beforehand. We had many pieces of training or a couple of training before the second Test that was washed out as well. I think Ross will look back and be disappointed at that himself. It's a fine balance here, though, between trying to play aggressively and put the spinners under some pressure and also trusting your defense to bat for long periods."
Stead also confirmed that he will have a discussion with Ross Taylor and selectors on the future batsmen's in the games.
Ross Taylor who became the first player to feature in 100 games in each format, has now fought for his place from Will Young and Daryl Mitchell, according to Stead.
"I think the thing that's encouraging for our team is we have more options now than what we did have a year or two years ago,"

Stead said. 
"You've seen the emergence of Will Young and Daryl Mitchell, in particular, who have come onto the Test scene and done well. But let's not also forget that Ross Taylor has an amazing record behind him as well.
"He's been one of New Zealand's premier batsmen for a long, long period, and you don't lose that class just over one tour. I've got to get home and speak with the selectors and have a conversation with Ross as well, around where he sees his game going forward."