Injury plagued Australia gets undone by spin; suffer first ODI series loss in Sri Lanka in 30 years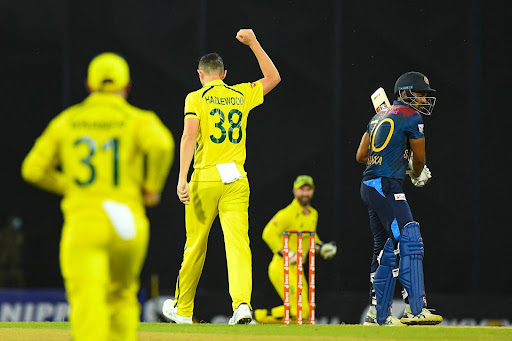 Australia lost the ODI series 2-3 against Sri Lanka
The ODI leg of Australia's tour of Sri Lanka has concluded, with the tourists ultimately losing the series 2-3. It was an injury-plagued tour for the Australians, who used 17 players across five matches as Sri Lanka ran away with an upset victory.
The visitors started the cricket series by winning the three-match T20I series 2-1. They followed that up by winning the first ODI comprehensively. However, they faced three defeats on the bounce in the ODI series to suffer their first ODI series loss at the Island nation in 30 years. They ultimately won the final ODI game to end the limited-overs format of the tour on a high.
Here, we rate how every Aussie player performed in the five-match ODI series against the Lions –
Batters
Aaron Finch – 4/10
What a shame Australia's white ball captain's tour had to end the way it did. He began the tour under pressure after a long, lean run, but he played well in the T20s and the first three ODIs, scoring 44, 14 and 62. It appeared as if the old Finch had returned, but it was followed by a string of ducks, including one in the crucial fourth ODI.
David Warner – 6/10
The veteran opener delivers a respectable series, but we've come to expect more. Aside from his 37 in the second ODI, he only had one notable score – 99 in the fourth ODI. Despite losing his wicket at a crucial time, it was the best batting performance and highest score by an Australian this series.
Steve Smith – 3/10
Another Aussie casualty in the middle of the series. Smith only played two matches, with mixed results. In the first ODI, he scored a solid 53 off 60 in a successful chase, followed by a middling 28 off 35 in the second. Because he only played two matches, his series rating has suffered.
Marnus Labuschagne – 4/10
A disappointing series from Australia's No.4, and one that may spark some debate about his position when all players return. A clear pattern of wasteful starts emerged across the five matches, with his lowest score in the series being 14, while his highest being 31. Australia needed more from such a talented batter.
Travis Head – 7/10
During his three appearances, the left-hander certainly helped his 50-over credentials. His batting performance of 70 off 65 balls in the third ODI was one of the best by an Australian this series. When he came to the crease, Australia were 4-121 after 26.4 overs but went on to post 6-291 with Head remaining unbeaten. Head also blew starts in his other two innings, scoring 23 and 27.
Alex Carey – 7/10
A strong performance with the gloves and a couple of noteworthy hits with the bat should keep Josh Inglis at bay. In the fifth match, his measured 45 not out helped Australia recover from 4-50 to chase down 164. Regardless, it was a low total in a dead rubber.
Carey followed the Aussie trend of making some starts during the series, but he didn't make a half-century with scores of 21, 15, 49, 19, and 45*.
Josh Inglis – 2/10
Played a solitary game in the final ODI but failed to make an impression in that opportunity scoring only five runs.
All-Rounders
Marcus Stoinis – 8/10
Marcus Stoinis looked in great touch in the first ODI, and this series might have gone a bit differently had he not gone down injured and then ruled out from the remainder of the series.
Mitchell Marsh – 3/10
Marsh returned for the final three One-Day Internationals and had a quiet series, with the exception of his performance in the fourth ODI. Marsh bowled seven tight overs in that match — he only bowled eight in the entire series — to take 2-29 and steady the Aussies with the bat following Finch's early loss. Nonetheless, he never used the bat to do any damage. His three series scores were 10, 26, and 24.
Glenn Maxwell – 8/10
The series got off to a great start, with Maxwell delivering one of his trademark power hitting displays. He hit 80 off 51 balls, including six boundaries, in a successful chase to get Australia off to a good start in the series in the first ODI. That was the best the all-rounder could do with the bat. 
In the next two matches, he scored 30 and 33, but he faded late in the series, particularly in the fourth ODI, when he was out in three balls to add to a fatal collapse. Maxwell produced consistently economical figures with the ball — it's difficult to recall when he last bowled a bad spell for Australia — and contributed a handful of wickets.
Cameron Green – 4/10
He finished with an average of over 50, but it should be noted that he had two unbeaten innings and only played three matches. In the final match, he was measured alongside Carey in getting the Australians over the line.
Prior to that, his batting performance in the crucial fourth ODI was underwhelming, and he struggled to accelerate towards the end of the third. Only bowled 12 overs in the series, but leaked nearly a run-a-ball, with only Jhye Richardson and Marnus Labuschagne costing more (two overs minimum).
Bowlers
Pat Cummins – 8/10
Cummins was outstanding in all four games of the series. With eight wickets at 17.75, he was easily Australia's most dangerous bowler. Four of those came in a single match, when he annihilated Sri Lanka in the second ODI with 4-35. Marsh was also the only Australian bowler to bowl more economical (minimum two overs) in the series.
Ashton Agar – 6/10
This series might have gone a bit differently had Ashton Agar not gone down injured. His left-arm spin was sorely missed in the absence of Adam Zampa. He bowled well, taking 2-49 in his only match.
Josh Hazlewood – 6/10
Hazlewood wasn't as potent a wicket-taker as his teammate Cummins, but this was largely another display of disciplined bowling from him. His best came in the final match, when he took 2-22 and allowed only 3.14 runs per over. In the second ODI, he was also only hit for 3.71 runs per over.
Jhye Richardson – 5/10
Richardson appeared in only two games and had mixed results. In the first ODI, he was punished for going for eight runs per over when each of Australia's specialist bowlers was only going for one run per ball.
In the third ODI, he returned with a much better return of 2-39 from nine overs. His series rating is also influenced by the fact that he only appeared in two of five matches.
Matthew Kuhnemann — 5/10
Not a bad debut series at all. Few expected Matthew Kuhnemann to make his ODI debut this month, let alone become a key player in four games. 
There is certainly room for improvement, and no one believes Kuhnemann will pose a threat to Ashton Agar or Adam Zampa anytime soon. However, his six wickets at 31.83 with an economy of 5.02 was a respectable return. It's also worth noting that he hit three boundaries in the fourth ODI's final over to almost force a tie.
Mitchell Swepson – 4/10
Mitchell Swepson failed to make an impression in their only appearances of the series. He scalped a solitary wicket in the only match he played at the expense of 58 runs.