India coach Rahul Dravid not worried about team's loss in 2nd ODI against West Indies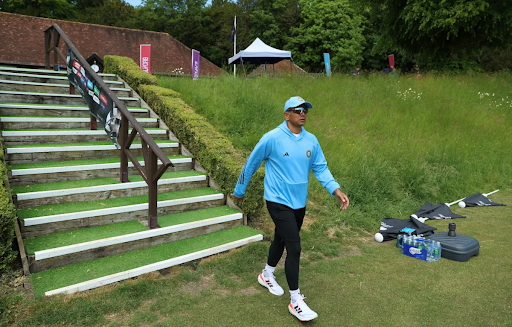 Rahul Dravid said India will be looking for some answers ahead of the Asia Cup and the World Cup to be played in India
Indian head coach Rahul Dravid has said that the team is not worried after the loss against the West Indies by six wickets in the second one-day international which gave the home team a chance to equalise the ongoing ODI series, saying that the visitors were running short of time and settling their squad.
While the West Indies are not going to play in the World Cup for the first time in 48 years, their absence will certainly be missed but it was also concerning that if the Indian team which played in the second ODI without their main players Virat Kohli and Rohit Sharma, could not pose any challenge to the Caribbean cricket team.
India head coach Rahul Dravid said after the end of the match,
"I think we will always look at the bigger picture. To be honest, at this stage in the cycle with the Asia Cup and World Cup coming up, and with the injuries we have, we have to look at the bigger picture. We can't worry about every single game, every single series. If we do that, it will be a mistake."
Rahul Dravid said the Indian team is running short of time and testing their fringe players who could possibly play in the World Cup which India will be hosting from October 5 to November 19, and also in the Asia Cup which will be held in Pakistan and Sri Lanka in August and September.
Rahul Dravid said,
"Honestly, this was our last chance to be able to try out some of our players. We have got a few of our players who are injured and are at the NCA. With a month to go for the Asia Cup, we are kind of running out of time in a lot of ways. And we're hopeful some of them will be fit for the Asia Cup and World Cup. But we can't take those chances; we have to try out other people and give them chances so that, in a worst-case scenario, they have game time behind them."
Rahul Dravid explained that sticking with regular players like Rohit Sharma and Virat Kohli would not have given India some of the answers that they have been looking for in one-day international cricket and that means even though the Indian team has a chance to win the series by winning the third ODI, the experimentation would not stop.
"It gives us an opportunity to make some decisions on players. We just felt in a series like this, with just two-three matches to go before the Asia Cup, playing Virat and Rohit honestly would not have given us too many answers, but with the injuries we have at the NCA and the uncertainty around them, we wanted to give some of the other boys a chance so that if required they can play," said the former India captain and a legendary batsman of his generation.
Rahul Dravid also backed the struggling Suryakumar Yadav who has been batting at number four spot or at least auditioning for it and successfully given that he has gone without scoring a 50 for more than 16 matches now in one-day internationals.
Rahul Dravid said,
"Look, Surya is a really good player, there's no doubt about it. His performances have shown that, especially in T20 cricket, even in domestic white-ball cricket. He has some very good performances. Unfortunately, he'd be the first one to admit his ODI numbers aren't up to his high standards he's set in T20s. But he's also learning about one-day cricket.