Head Coach Gary Stead reacts after New Zealand pull out from Pakistan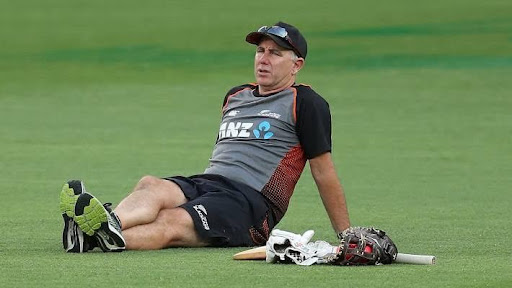 Twitter
Black Caps Head Coach Gary Stead said that their decision of pulling out the tour of Pakistan was unpleasant and added "that decision was out of our hands."
New Zealand Head Coach Gary Stead has revealed that abandoning the tour of Pakistan was "unsettling and disappointing."
According to the officials, Stead also sympathized with Pakistan cricket and its fans.
"I think they [New Zealand squad] are OK. It was obviously unsettling and disappointing what happened in Pakistan and we certainly feel for the Pakistan cricket fraternity and fans,"

Stead said. 
He supported his players to play strong in their upcoming T20 World Cup opener against Pakistan on October 26.
"Certainly, being that it's Pakistan, people will hype that up, but for us, it's no different to any other match we play against them,"

he said. 
He added that the ongoing Indian Premier League (IPL) will help a lot of their players to prepare for the upcoming T20I World Cup.
IPL is currently happening in Dubai and the mega event will also be hosted in Dubai.
So it will provide a good chance for the players to prepare themselves and they can also understand the conditions before the event.
"That decision [abandoning Pakistan tour] was out of our hands, and the guys are now in Dubai and getting ready, and there's the IPL that they can have a good look at, which in many ways is good preparation for them as well,"

he said. 
New Zealand pulled out of the tour just before the toss of the opening match in Rawalpindi citing a government security alert.
The tour was due to start with the first of three One-Day Internationals in Pindi but Black Caps never reached the stadium.
After NZ abandoned their first tour of Pakistan in 18 years, England has also announced to cancel their men and women tour of Pakistan.
New Zealand tour was scheduled on three ODIs and five T20I in Rawalpindi and Lahore which was scheduled to start on October 17.
Pakistan Cricket Board (PCB) Chairman Ramiz Raja said the only way to control this disappointment is to defeat the big teams on the ground and become the World No.1 combination. So everyone will be looking forward to play with you.