ENG SA ODI series finishes at a deadlock after 3rd ODI got washed out: Player Ratings for the English side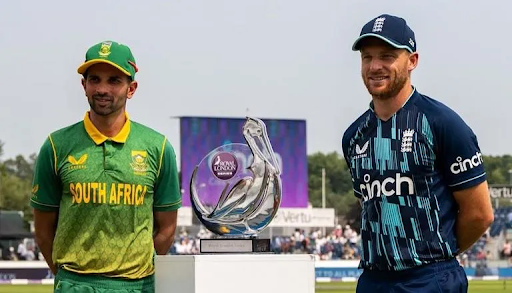 The trophy was shared between the two teams after a 1-1 series finish
After losing the ODIs to India 2-1, England was looking to clinch the South Africa series, but a downpour meant that the final ODI between the two sides was abandoned, leaving the series at a 1-1 draw. Let's take a look at the player performances from the series.
Top Order
Jason Roy (3/10): Jason Roy's lacklustre form with the bat continued in this series and while he did make 43 with the bat in the first game, the fact that the run rate was 6.68 when England started their chase and had jumped to 7.5 when he got out did not help his cause.
He made only 14 in the second and rain denied him a third opportunity. It remains to be seen if England still persists with him at the top.
Jonny Bairstow (7/10): Jonny Bairstow continued his form from the matches in all formats prior to this series and was the pick of the English batters on display. He would be disappointed that he was not able to convert his fifty in the opening game into a match-winning score followed by scoring 28 at 'run a ball' in the second ODI. England will be hoping that his purple patch continues even as they figure out the rest of the pieces of the jigsaw puzzle.
Phil Salt (4/10): Phil Salt got a chance to play as a replacement for Ben Stokes in the team and he looked good in the short ten ball stay in the middle, scoring 17 runs in the only chance he got to bat. He is likely to get more chances over the course of the next few months and England work towards fine-tuning their squad for the ODI world cup.
Joe Root (7/10): Joe Root, England's best batsman made 86 runs in the first game and while he did play a few unnatural shots, it was obvious why he is seen as such a class act. He would be ruing that he could not finish the game, but the fact that the batsmen allowed the required rate to climb up to nine, meant they were always playing catch up.
And while he is a brilliant ODI batsman, he has not yet shown the destructive capability that some of the other English batters have. In the second game, he was taken out for a solitary run-making it an even series for him.
Middle Order
Jos Buttler (3/10): Jos Buttler had a forgettable series as a batsman scoring only 31 runs and not as quick manner as he is known to usually do. The captaincy seems to be affecting him, though one would hope that it is only a learning curve.
Even his captaincy left a few things to be desired as he appeared to be running out of ideas when things do not go the team's way. Having said that he is too good a batter and should return with a bang and one would think that should help bring out more in his captaincy.
Ben Stokes (2/10): Ben Stokes announced his retirement from the ODI format even before the series started and England's World Cup-winning hero chose to end it at the end of the first ODI. He failed to sign off big though and had an off day both with the bat and on the field, scoring only five runs off 14 balls and bowling an expensive five-over spell for 44 runs.
Liam Livingstone (6/10): Liam Livingstone has built up a reputation of being a solid player in the finishing overs, but the fact that the target was closer to ten when he walked out seems to have got to him as he managed only 10 off 14 balls. In the second game though, he showed why he has such a reputation though as he smashed 38 off 26. 
England will be hoping for more such exploits from him in the future as they reshape their middle order in Ben Stokes' absence. He had a mediocre series with the ball as well, though the two quick wickets he took towards the end of South Africa's mammoth innings did help slow things down a bit.
All-Rounders
Moeen Ali (4/10): Moeen Ali was the least impressive among the English batters, but it could also be down to the fact that he is always expected to get a move on as soon as he arrives. He scored only nine runs in the two outings he had and did not add much to the team's cause.
His 2 for 22 in the second ODI was the only silver lining in what would be described as a dull series for him as in the remaining two games too he had mediocre returns picking up one wicket in the opening match and none in the final abandoned game.
Sam Curran (6/10): Sam Curran played all three games and had decent series. Though he was hit for 67 runs in the opening game, he seemed unlucky to have not returned with much better spells and due to rain-shortened games, he got to bowl only six more overs and looked good in them.
With the bat, he scored 18 and 35, the second of which was crucial in helping England set a tough target in a reduced game. With Ben Stokes having retired, he should get an extended run to see if he can be the team's long-term seam-bowling allrounder.
Bowlers
Matthew Potts (1/10): Matthew Potts played a solitary game and bowled only four overs and was hit for plenty, giving away 33 runs off four overs, before the soaring temperatures got to him and he never came back to bowl another over. 
With the bat, he did walk to complete the formalities during their loss in the series opener. Being young, he should get more opportunities in the future.
Brydon Carse (4/10): Brydon Carse's only outing was a decent one. In a game where most of the bowlers were getting hit all around, he managed to give out only 46 runs in his nine overs, picking up a wicket.
He did not have much to do with the bat as well, as the game was pretty much decided, by the time he could face his second delivery and all he managed was to hit a couple of boundaries to bring the margin of defeat down. He was ruled out of the remaining two games due to a toe injury.
Reece Topley (7/10): Reece Topley was rested for the opening game which England lost by a huge margin. Included in the second rain-shortened game he immediately made an impact, picking up two wickets in the opening burst that he bowled, helping the English side to level the series. He seemed off-color in the series decider where he bowled his five overs for 34 without any success before the game was washed out.
David Willey (8/10): David Willey returned to the team in their second ODI against South Africa, after a poor showing in the final ODI against India. He seemed to have gotten over his blues and he had brilliant bowling performances in both games.
Though he bowled only nine overs in total, and all of them up front, thanks in part due to both games being affected by rain, he was highly economical and picked up a wicket on both occasions. It remains to be seen if his death bowling improves as well.
Adil Rashid (5/10): Adil Rashid made a comeback to the idea after missing out against India due to personal reasons and had a mixed series – he looked out of touch in the opening game and went for an economy of over six per over without adding to the wicket's column.
He was back in mojo in the second game & helped England bundle out South Africa for 83 by cleaning up the tail and picking up three wickets. In the final game, the South Africans seemed to play him much better though and he ended up taking just one wicket at 'run a ball' in his six overs.
He did not contribute much with the bat as he was out for the first ball in the first ODI and made a run a ball 12 of the second.