Chris Silverwood asks Ben Stokes to return from break in times of need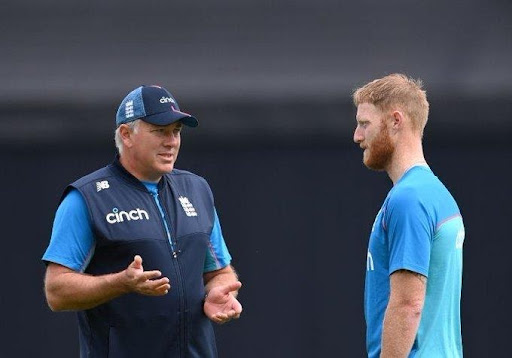 The Cricketer/ Twitter
Ben Stokes will not be pushed to come back from his mental health break for the five-match Test series against India, says England head coach, Chris Silverwood.
England will not pressure the veteran all-rounder, Ben Stokes, to come back from his mental health break and rescue his side in the ongoing five-match Test series against India, Chris Silverwood, England Head Coach confirmed it on Tuesday.
Silverwood talks about this a day after India sealed a thrilling victory in the second Test match at Lord's to lead the series by 1-0.
Meanwhile, Stokes announced his break from all formats of cricket at the end of July because of the workload he has been facing throughout the year as one of the star performers for England.
Silverwood said that it was a case that Stokes approach him whenever he feels himself okay to join the party again. Apart from the India tour, England is set for a hectic winter schedule.
They are set to face two T20 matches against Pakistan in October, the T20 World Cup — which is being held in the United Arab Emirates and Oman — the five-Test Ashes series in Australia, and a three-Test series in the West Indies.
"No, there is no pushing from my point of view,"

said Silverwood. 
"I don't think you can push with these issues. I will wait and there will be an element of waiting for him to come to me to let me know he is ready."
Stokes missed England's Test series against New Zealand in June following an injury, but he returned to captain the inexperienced England side in three-match ODI series against Pakistan.
Silverwood mentioned that the decision is of Stokes and his family as when he is ready to join his team.
"There is no time limit on it,"

said Silverwood. 
"I would stress again the important thing is Ben is okay, his family is okay and that he comes back strong, and when he re-enters the frame, he is ready in his mind to come back and perform for England like we know he can. 
"I am certainly not pushing him for an answer and I don't think that would be the right thing to do. There are people around him supporting him and, when he is ready to come back in, we will welcome him with open arms, but until then he will get all the support he needs." 
England is yet to announce their squad for the third Test at Headingley on Wednesday with Mark Wood to be assessed by the medical team following a shoulder injury.