Cheteshwar Pujara says India's Test series win in England will be historic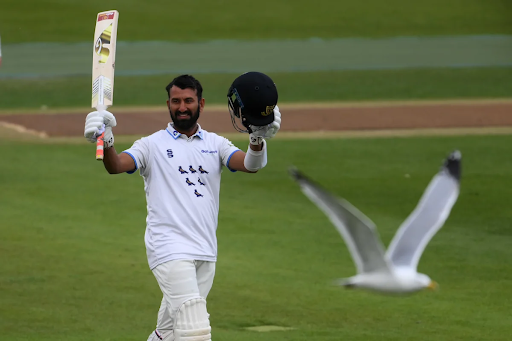 Cheteshwar Pujara will be a vital cog in the Indian line-up, given his recent exploits in County Championship
India middle-order batsman Cheteshwar Pujara says if they manage to beat a revitalised England cricket team in the fifth and the final Test — to be played from July 7 at Southampton — it will be a historic achievement. 
The No 3 Indian batsman, who has spent about the last two months in England garnering a lot of runs for the County side Sussex, says that the visiting side will look to replicate all that they did last year to take a strong 2-1 lead in the five-match series for the Pataudi Trophy.
Cheteshwar Pujara told the official website of the Indian cricket board in an interview:
"I think the most important thing is we have a good bunch of players. We have quality fast bowlers. So the way the guys did in the last four Test matches here, I'm sure the guys are eager to do the same thing again and if we can win this particular Test match and win the series on English soil, I think it will be one of the best victories India has."
While the first Test of the series ended in a draw, India recorded heavy wins in the second and fourth Tests to take 2-1 lead, even though they were outplayed in the third Test by a spirited England side.
It is not often that a visiting Indian side has found itself in a situation from where they can win a series in England, and if they manage to beat the English side which has made tremendous improvement under captain Ben Stokes and coach Brendon McCullum, they will indeed be creating history by winning first-ever away series since 2007.
"I think it's a good challenge for us. Yes we are 2-1 ahead in the series, but at the same time this is the most important Test match of the series. And as you mentioned it is after a long time. So we just need to regroup. We just need to understand our strengths,"

Cheteshwar Pujara said. 
"The good part for us is we are here early. There is plenty of time to prepare for all the players. And yeah, if we play to our potential, if we stick to our strengths, understand what we need as a team and what has given us success in those four Test matches which we played here, we just need to repeat those things.
The dependable India No 3 batsman Cheteshwar Pujara laid emphasis on the plans that the coaching staff will be currently drawing up for England.
"But at the same time there are some changes in the England squad. So we need to understand their strength and then try and have a strategy — I'm sure the support staff and management will talk about strategy later. But we need to plan it well for this particular Test match," he said.