Ben Stokes says first-innings declaration was perfect for England against Australia in the first Test of the Ashes series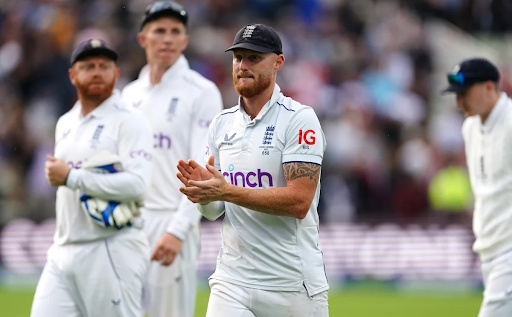 Ben Stokes declared England's first innings at 393/8 which proved to be a crucial point in the first Test of the Ashes series
England captain Ben Stokes has defended his decision to declare their first innings at 3:93/1 against Australia in the first test of the Ashes series at Edgbaston, where the visiting side recorded a slow but narrow victory of two wickets to take 1-0 lead in the five match series.
Usman Khawaja was a hero for Australia with the bat as he scored a century and a half century in the test match whereas their captain Pat Cummins played a match-winning knock of 54 not out to help his side when an extremely crucial match, against an aggressive England side which had remained in control of the match.
Ben Stokes said after the match ended on the final day, "If we were in the same position? Yeah. I would like to be 398 for 6 [sic] with 20 minutes left. That would be great.
"I could also turn it around and say, 'if we didn't declare, would we have got the excitement that we did at the end of day five?' I'm not a hundred percent sure, but I'm not going to be looking back on this game as 'what ifs'… the reality is, we just didn't manage to get over the line."
Ben Stokes said it was time for England to pounce on Australia after they had put up a decent total on the board in the first innings and wanted to make the most of the new ball towards the end of the first day of the series.
"I thought that was a time to pounce. I am not going to change the way I have gone about my cricket because it is the Ashes. Who knows? We could have got an extra 40 runs or lost two wickets in two balls. I am not a captain who gets by on what ifs. We saw it as an opportunity to pounce on Australia and really start day two on top,"

Stokes was quoted as saying by Cricbuzz. 
There is a gap of seven days between the first and the second test match of this series and England captain Ben Stokes is confident that his bowlers are going to get ample amount of rest and be ready for the second test match.
"Seven days is actually quite a long time to give everyone a good rest. We'll meet up again in three or four days' time I think, and we'll assess how everyone's going and we'll have to make a decision from there,"

Stokes said.
Ben Stokes also praised his England teammate and all-rounder Moeen Ali, who came out of test retirement to play for England and produced an inspired so despite suffering a finger injury along the way in the first test match.
"I told Mo to tell me if his finger was sore, and I'd sensed that it was even before that. For him to come back into his first Test match and operate in the way that he did and really put himself through the pain barrier for the team [was great].
"You could see what it meant to him going out to play for England again with a huge smile on his face. I selected him for his match-winning moments. He had a few of them with the ball and nearly got us over the line… [The break] gives Mo a good chance for his finger to heal up."
Ben Stokes also mentioned that he had to manage his knee injury throughout the test so that he is able to share the book load in the bowling department with the other bowlers.
"I was absolutely flying high on caffeine. I've put my body through more than it's actually been through over the last year, which is obviously great signs for myself and another confidence boost for me,"

"Getting through that, knowing we've still got four games coming up has given me a massive boost.
"I can't remember the last time I've sort of been able to continually bowl. I was just really happy that I was able to get a good long spell in, and I just love being in that situation. I love bowling long spells, especially when the game's on the line."