Australia's Josh Hazlewood happy to sit on fence for Sri Lanka Tests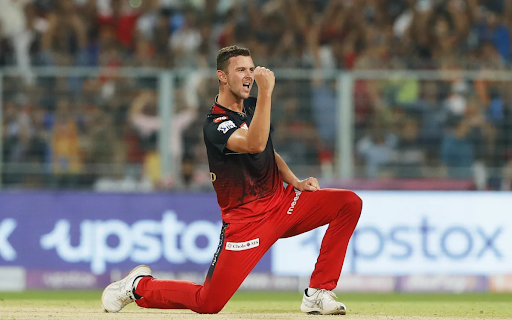 Josh Hazlewood's stocks have been on the rise in shortest format of cricket
His rise in the shortest format of cricket has coincided with a long and unexpected absence from the Australian cricket Test bowling attack, but Josh Hazlewood says he has no objections in making way for another spinner in the Test side as conditions dictate team selection calls in the Indian subcontinent. 
Australia are set to kick off their long tour of Sri Lanka consisting 3 T20Is, 3 ODIs and 2 Tests. The tour will start on Tuesday evening with the first match of the shortest format, in which Josh Hazlewood will be sharing the bowling responsibilities with Mitchell Starc, particularly in the absence of Pat Cummins and Adam Zampa.
The visiting side will be expected to have two spinners for the Test series in which they can expect more spin-friendly pitches than they got in Pakistan during the recent tour, wherein they emerged victorious in the Test series 1-0.
Josh Hazlewood said,
"I was fine with it. Obviously, the conditions dictate the bowling line-up in the subcontinent and, after playing on that first (Test) wicket, I was pretty happy to just sit on the sidelines for the next two."
The right-arm pacer acknowledged that his rise in the white-ball cricket has coincided with fading chances in red-ball cricket.
Josh Hazlewood said,
"It's a strange one I guess. I've missed a fair bit of red-ball cricket through selection and injury, so I guess it's a little disappointing in that regard. The white-ball, and T20 stuff, has gone from strength to strength.
"It was maybe two or three seasons ago now, I played the last couple of games (for the Sixers in 2019-20) and then we ended up winning the semi and the final against the Stars. It was probably that period where I made a conscious effort to get back into T20 cricket. It was so hard before logistically with tours overlapping other tours and you had to pick and choose what you wanted to play for Australia,"

he said. 
Josh Hazlewood also acknowledged the role of Indian Premier League (IPL).
"I just took that opportunity to play the Big Bash and that just led to playing for Chennai for a couple of years. I just ended up playing more and more games as time went on, getting more exposure to it and getting a bit more consistency in it. And then here we are,"

he said.