"Any Indian team you play is going to be a good team," says Andrew Balbirnie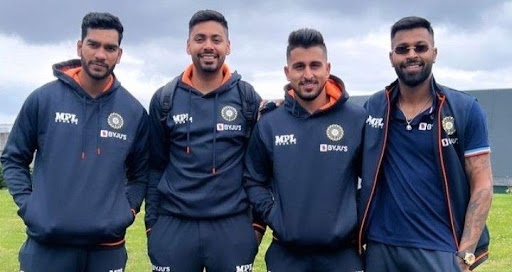 Andrew Balbirnie says IPL has played a part in providing the young players
Hardik Pandya drove the Indian side will take on Ireland in a T20I in Dublin while Ireland captain Andrew Balbirnie acknowledge India's depth which turns them to play different sides, in different formats, and at the same time.
On June 26, the Hardik Pandya-drove Indian side will take on Ireland in a T20I in Dublin. All the while, a portion of their teammates will participate in a training game at Grace Road in anticipation of the fifth test against England at Edgbaston.
Last year, as well, India visited Sri Lanka for limited over games while one more arrangement of players was taking on England in a Test series.
Ahead of the T20I series, Ireland skipper Andrew Balbirnie acknowledges India's depth which in turn helps them to play different sides, in different formats, and at the same time.
He further added the IPL has played a part in providing the young Indian players a pathway to international cricket.
"Nowadays, any Indian team you play is going to be a good team. It kind of shows the depth of Indian cricket that they can put out two teams. We couldn't do that – there's no way we could put out a Test team and a T20 team at the same time, we just don't have the numbers for that, "

Balbirnie said in a press conference on Friday.
"With the IPL being so successful over some years, a lot of young guys are coming in and putting their names forward to get into that first eleven for India. And with the World Cup in October, there'll be a lot of guys looking for those places. So we know it's going to be a good Indian team and we have to be at our best to try to force a result,"

he added.
He also noticed the IPL gives resistance sides a very sizable amount of film to break down the qualities and shortcomings of different Indian players, and that they have done the required "homework" on the Indian players who will play in the two-match series.
"The good thing about the IPL is that you get to see all these players pretty much every day, there's a game every day when the IPL is on. So we have a lot of footage of these guys – bowlers and batters. So there's plenty of homework being done, Scott Irvine, our performance analyst, has done a lot of work. So we have the tools there. It's all well and good having the footage and stuff, (but) we got to go outside and execute our skills. Certainly, the homework will be done before we go out there on Sunday."
"One of the main messages we always try to get, particularly to our bowlers, is to just take them in and just kind of catch your breath back because it can happen so quickly and the ball can be flying all over the place, and sometimes you can rush into things. So we have to make sure that we kind of takes that moment to gather ourselves in the important moments. But hopefully, we've had a lot of experience playing top teams in 50-over cricket and T20 cricket,"

he noted.
With the Indian cricket crew having an extraordinary fan following, Balbirnie expects an 'astonishing' climate for the matches. The Ireland captain feels that the clamorous Indian fan wrenching up the commotion would free the best once again from his players.
"I think the intensity goes up, naturally the noise is incredible. You almost can't hear yourself. I think there are 10 or 11 thousand people who are going to be here on Sunday and potentially 9000 of them will be Indian supporters. It's great, it's what you want to do growing up, to see this crowd. A few of our guys played in the 2011 World Cup against India, so it was one of the most amazing atmospheres to have played in. So the guys are excited to see the color, hear the noise of the game, and hopefully, that kind of gives our guys extra confidence once we get down to it on Sunday."