5 players who will have to prove their price tag in IPL 2022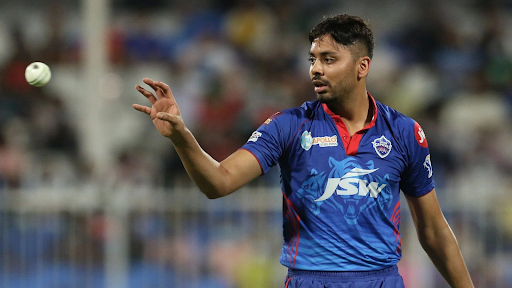 Avesh Khan became the most expensive Indian uncapped player in the history of IPL
The Indian Premier League 2022 will kick-start in a few days' time. This time around the cricketing carnival of India will be much bigger and better. The auction model of the IPL is one of the most talked-about features of the league and it has seen unknown players bag millions. 
With 10 teams fighting it out in the mega auction a few players attracted a lot of bids making a few of them overpriced. These players will now have to make sure they live up to their price tags.
Here is a list of 5 players that we think will have to justify their price tag in the upcoming edition of the league.
#1 Rahul Tripathi (Rs. 8.5 Crores)
Sunrisers Hyderabad spent big on is Indian uncapped batsman Rahul Tripathi as the franchise has paid INR 8.50 crores for the former KKR player. Tripathi averages just over 25 with the bat in the Indian Premier League but can do well for the Hyderabad-based club as he can bat in multiple positions.
Tripathi will have a huge role in the SRH franchise and if guaranteed an opening slot alongside Kane Williamson, he will prove that he is worth every penny that the 2016 IPL champions have spent on him. Some of the best batsmen in the business were sold for a price lesser than that of Tripathi including David Warner and Jason Roy which could mount some pressure on him.
#2 Abhishek Sharma (Rs. 6.5 Crores)
SRH's auction strategy did surprise a lot of people, right from their retentions to their decision to sign certain players. The 21-year-old all-rounder Abhishek Sharma from Punjab has been re-signed by Sunrisers Hyderabad for a whopping sum of INR 6.50 crores despite not performing well enough so far for the franchise. 
The former India U-19 star is a great prospect for the future but he has struggled in the toughest T-20 league in the world. So far in his IPL career, he has hardly had any impactful knock and neither does he regularly bowl his quota of 4 overs as a result, paying over 6 crores to an Indian uncapped all-rounder is something that can only be justified by brilliance on the field.
The fact that SRH could have brought back one of their former players Deepak Hooda who is a capped all-rounder for a similar price makes it a risky deal that has to be justified by the young all-rounder in the upcoming season.
#3 Harshal Patel (Rs. 10.5 Crores)
Royal Challengers Bangalore's decision to not retain Harshal Patel did raise a few eyebrows but RCB stole the show when they managed to secure back the Indian pacer. Patel was last year's purple cap winner and the team in red and black secured his signing for a huge price tag of INR 10.75 crores. IPL 2022 was a magnificent campaign for the speedster but it will be intriguing to see if he can live up to the price tag this time around. 
Only a few pacers were bought for a price tag of around INR 10 crores therefore paying almost INR 11 crores for Patel who is still a one-season wonder is still a gamble.
While Patel is a smart bowler and looks like a great prospect on the basis of last year's performance, it looks like that he is worth the money but it will be difficult to justify that price without repeating his last season's heroics.
#4 Avesh Khan (Rs. 10 Crores)
Another Indian speedster who had a brilliant outing in the last edition of the IPL is on the list. Avesh Khan picked up 24 wickets in 16 matches for the Delhi Capitals and took his team to the finals of the tournament.
The Indian speedster made his international debut on the back of his heroics in the IPL and the domestic circuit but the pressure will be different and tougher to justify in the upcoming season.
New IPL entrants Lucknow Super Giants have signed him for INR 10 crore.and we have seen players crumble under the pressure of the double-digit price tag. Jaydev Undakat's heroics in IPL 2017 led to a bidding war for him as Rajasthan Royals spent a fortune on him and they went on to regret it big time later on.
#5 Rahul Tewatia (Rs. 9 Crores)
Rahul Tewatia was one of the biggest names that came into the limelight after his heroics in the IPL 2020 that was held in the UAE, the Indian all-rounder signal handily won Rajasthan Royals a few encounters. 
He was the star man for RR in that edition and Tewatia has bagged an IPL contract worth INR 9 crores on the back of his performances in IPL 2020. Rahul had a poor outing in the previous edition of the IPL as he could only manage 155 runs at an average of 15.50.
His performance with the ball in hand was also below par as he picked up 8 wickets at an average of over 40 while having an economy of over 9. Another new entrants in Gujarat Titans have paid the big bucks for the Indian all-rounder and he will be seen in their colors for the upcoming edition of the league.
Tewatia's stats don't really back his price tag and he will have to once again light up the tournament to prove that he is worth the sum that the new franchise has invested in him.