The Undertaker wins major award in WWE, fans in India have lots to cheer about this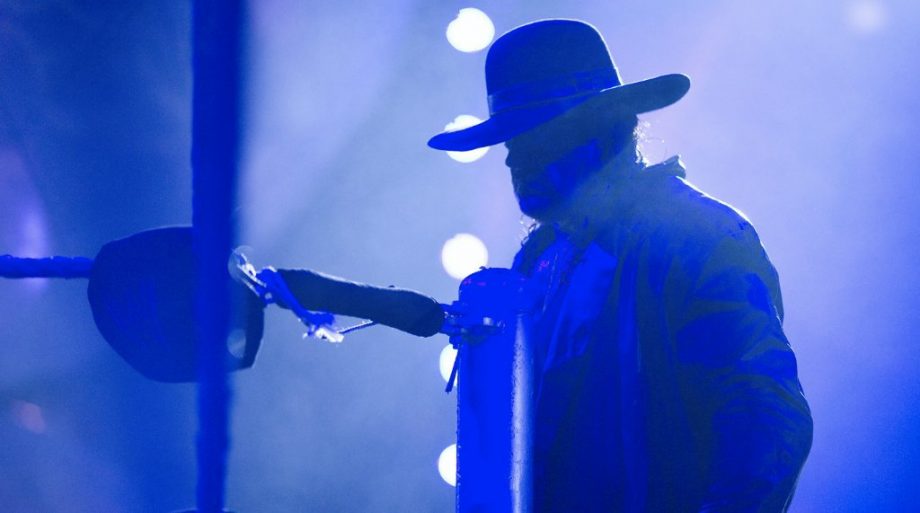 The Undertaker seen entering the ring for his retirement segment at Survivor Series 2020, credit - Vince McMahon
The Undertaker who is well known in India has now been awarded a Slammy Award. This is for his match involving AJ Styles at this year's Wrestlemania. This match was the Boneyard Match that The Undertaker a.k.a Phenom won.
For the uninitiated, this was Taker's final wrestling match inside a WWE ring. The deadman also announced his formal retirement at Survivor Series in November this year. Now, he has been awarded a Slammy Award for Match of The Year. The Boneyard match has also been rated highly by wrestling critics who also consider this a turning point in Styles' career as well considering the fact that he now has only a couple of more years of wrestling in the WWE left in him at best.
This Slammy Award, involving The Undertaker, has also delighted Indian fans. Taker enjoys immense popularity in India especially amongst the Gen Z most of who have grown up watching The Phenom perform in the ring. Indian fans also enjoyed the recent Tribute to the Taker series that aired during the third week of December on Sony Ten 1 English and Ten 3 Hindi.
Apart from The Undertaker, AJ Styles also won recognition for his performance in the Boneyard match. All in all, Undertaker continues to be a legendary character even post his retirement. Taker's real name Mark William Calaway is seldom known outside.Thus, the soul of The Undertaker continues to live on. There is no death/retirement to the soul of the Phenom from Death Valley.
Alongside Undertaker, other superstars having won Slammy Awards include the likes of Drew McIntyre – Superstar of the year, Sasha Banks – Female Superstar of the year, Edge – Comeback of the year, The Street Profits – Breakout Stars of the year, The New Day versus The Hurt Business – Tag Team match of the year, Edge versus Randy Orton – Rivalry of the year, The New Day – Ring Gear of the year.
The Undertaker also won another award for the Moment of the year for his retirement segment at Survivor Series this year. Hence, it is a double bonanza for The Undertaker and his fans especially those in India.
In related news, after his retirement, The Undertaker's role in the company has been subject to speculations. Some rumours state that he could take on a role of producer at NXT or a suitable backstage role that WWE COO Triple H is speculated to be considering. However, these rumours are worth taking with a pinch of salt for now.
As far as The Undertaker is concerned, we at Parimatch feel that given his legendary character, stature,and in-ring work; he should have been the man with the most WWE championship wins – even more than that of John Cena's 16-title wins. Evan Ric Flair has the same amount of WWE championships to his name. Why the WWE Creative chose to look away in this aspect is best known to them.
We feel that the Phenom with his 30-year career should have been awarded more championships. Overall, Taker accumulated 7 WWE championships; an interesting trivia here is that all his seven championship victories have come from within the WWE; not WCW like Flair. Only 7 championships held by The Phenom may not be the perfect tribute to his in-ring career. Taker, with his storyline supernatural persona should have looked unbeatable as far as championships are concerned.
The man to beat Flair should have been Taker followed by Cena. At this juncture, it is worth remembering that Cena and Taker had a match at Wrestlemania 34 where the former was bested within 3 minutes. This match too received rave reviews from critics. Post this match, Cena turned a full-time part-timer and was last seen at this year's Wrestlemania in a Firefly Funhouse match against The Fiend Bray Wyatt who also brought back memories of his iconic 2014 clash with Cena. Last year, Cena reverted to his "Chain Gang" heel gimmick and was seen rapping his way to the ring drawing boos from crowds. But Cena as a face is on an altogether another level.
The Undertaker gained immense popularity in India even before the WWE's Attitude Era. His matches with the likes of Hulk Hogan, Kane, and Shawn Micheals drew unparalleled popularity from the Indian subcontinent. Taker was revered as a demon. Kane as his half-brother played the perfect sidekick. Their tag team called the Brothers of Destruction also turned out to be popular. This team turned out to be multi-time tag team champions. Their most recent outing together was in 2018 at the Crown Jewel program in Saudi Arabia. The Brothers of Destruction went face to face against D-Generation X comprising Shawn Micheals and Triple H. The monsters however lost the match after Triple H pinned Kane.
Finally, The Undertaker with his latest Slammy Award adds more value to his already existing fanbase, and we feel that this is a deserved accolade for The Phenom who should easily have won many more before he retired at Survivor Series in November. At this point in time, post his retirement, his fans in India (a majority) would certainly like to see The Deadman in an official avatar on WWE. In case he joins NXT as rumoured, it could be good news for fans as NXT has been one brand that produces numerous young and fresh talent, better than Roman Reigns, every single year. Taker potentially mentoring younger talents is good news as he could help create the next Undertaker and the next "face" of WWE that the Vince Mcmahon-owned company badly needs. John Cena has donned this role in the past. WWE has tried pushing Roman Reigns but an overwhelming majority of fans have rejected Reigns as the next face. But WWE just doesn't stop. We think that for fans' sake, Reigns needs to lose his Universal Championship to a fresh star at Royal Rumble in 2021.