The Miz lost the WWE title to Bobby Lashley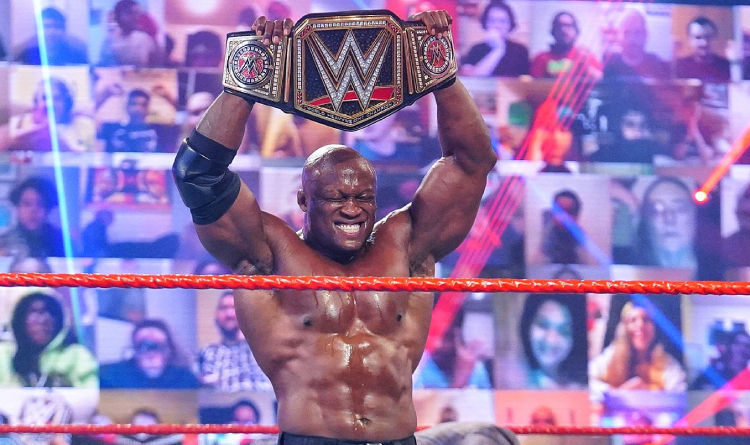 Lashley celebrating victory at WWE Raw
WWE champion The Miz failed to defend the title in a showdown against Bobby Lashley at WWE Raw on March 1.
The Miz retained and dropped the belt overnight
Mr. Money in the Bank won the WWE gold with Lashley's help at WWE Elimination Chamber 2021 on February 21. In gratitude for his aid, The Miz accepted Bobby's challenge right away. However, he changed his mind before the contest. Mr. Money in the Bank ran away from the ring after the bell had rung. The referee announced that Lashley had won the clash by count-out. But The Miz vanished and successfully retained the gold.
WWE producer Shane McMahon took the initiative to make sure the title fight would be contested fairly. He brought The Miz to the ring and urged him to defend the crown. But the champion wanted to eschew confrontation by all means. He threw his belt at Bobby to get disqualified. Nevertheless, his rival caught it and attacked The Miz. The king tried to escape several times but was stopped by his fellow wrestlers. Lashley eventually caught the champion in the Hurt Lock and made him tap. As a result, Bobby defeated The Miz by submission and became the new WWE champion.
Following the victory, Lashley pointed to the WrestleMania banner. Obviously, the athlete was eager to secure his spot at The Grandest Stage of Them All. The event will reportedly be headlined by a title bout between Edge and Universal champion Roman Reigns. However, Bobby might get a chance to defend his belt against former WWE king Drew McIntyre during the tournament. McIntyre also participated in WWE Raw. He took on Sheamus, who returned to WWE in 2019. Drew took over in a grueling clash and defeated his opponent by pinfall.