R Truth is a record setting champion in WWE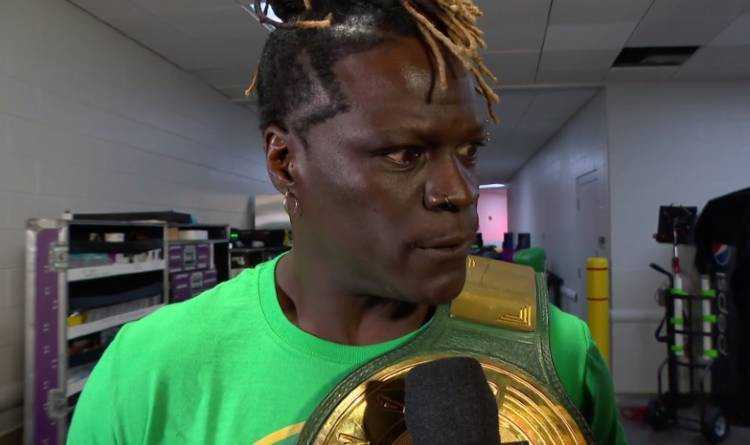 WWE
R-Truth is now a record setting championship holder in the WWE, in case you didn't know already. Yes, Truth has 42 championships to his name; this is with reference to a single championship.He could potentially be in the WWE hall of fame for this accomplishment.
If you are wondering about Truth's championships, he now has 42 24/7 titles to his name. This is the most by any superstar. Though the 24/7 title does not fall into the heavyweight category or A-list championships category, it is still gold. WWE recognizes the 24/7 championship as a title. Truth, with 42 title wins has now entered the record books.
R-Truth, in his role as 24/7 champion has continuously been providing entertainment and eye-grabbing moments and these have been enjoyed by fans as well.This is evident by the fact that Truth's videos of his championship victory segments garnered millions of views across the globe. His wins have mostly come in comical situations such as whilst aboard an aircraft, while the opponent is asleep, and in other humourous segments where the opponents are completely off-guard.
These comical wins doesn't stop Truth from being recognized as a record-setting 24/7 champion. However, there have also been moments wherein Truth has defeated his opponents in clean matches inside the ring for the 24/7 championship.Truth is an immensely talented superstar and deserves main-event status and probably the WWE championship.He is a multi-time champion in Impact Wrestling in its earlier avatar TNA Wrestling. In WWE, he has bagged the tag-team championships on multiple occasions along with the United States title. The irony is that he has now been recognized as a comical character lest a main-eventer; this despite 42 24/7 championship wins. Nonetheless, a championship is a championship; Truth is definitely a hall-of-fame worthy wrestler considering his pure wrestling style and persona.