NXT champion Jordan Devlin defeated 322-pound Bomber Dave Mastiff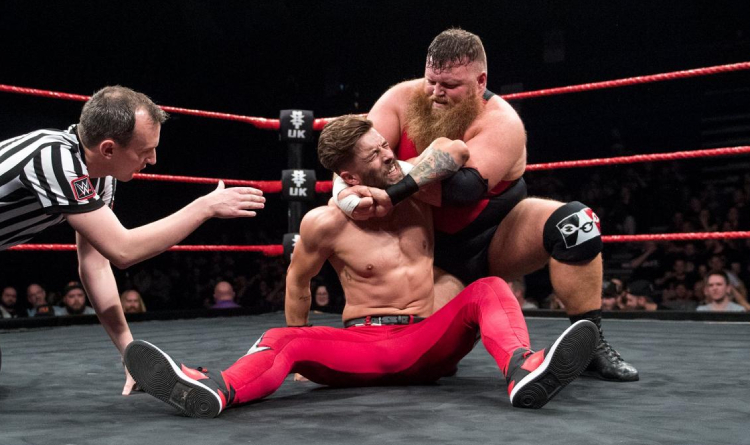 Mastiff choking Devlin
NXT cruiserweight champion Jordan Devlin beat 322-pound Bomber Dave Mastiff in a non-title bout at WWE NXT UK on February 4.
Devlin set a record for the longest reign in WWE NXT history
In the run-up to the event, Jordan claimed that nobody wanted to challenge his belt and offered any wrestler under 205 pounds to fight him. However, it was heavyweight Mastiff who responded to this call. Bomber went in the ring to teach the champion a lesson.
A contest between Devlin and Mastiff turned out to be a fierce brawl. At the beginning of the clash, Dave dropped his rival to the canvas, smashed him with a senton and hit a German suplex. However, Jordan withstood the attacks and caught the Bomber's leg to make a submission. But Dave got back on his feet, slammed the champion to the ground and was close to win the contest with a diving headbutt. Nevertheless, The Irish Ace amazingly avoided a Finlay Roll and finished Bomber with a 450 splash off the top rope, scoring a sensational victory.
Jordan won the NXT title in January 2020 and set a record for the longest reign in the cruiserweight division – 375 days. However, he has not defended the belt since last April due to a coronavirus pandemic. Therefore, WWE NXT held a tournament for the interim title. Santos Escobar qualified for the final, defeated Drake Maverick and earned the first gold in his WWE career. Nevertheless, Devlin called Santos a fake champion, stating that he would prove who the real king was. Escobar is reportedly ready to take on The Irish Ace, but the exact date of their contest remains unknown.