Nia Jax & Shayna Baszler retained WWE titles in a bout against Naomi & Lana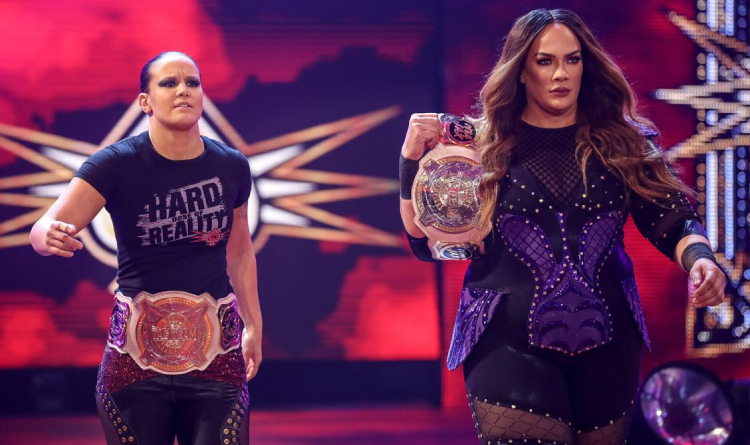 Jax and Baszler coming to the ring
WWE Women's Tag Team champions Nia Jax & Shayna Baszler retained their titles in a bout against Naomi & Lana at WWE Raw on March 8.
Jax and Baszler made an alliance with Reginald
Carmella decided to lay Reginald off at SmackDown on March 5. But the famousc sommelier definitely knows how to win women's hearts. He made friends with Nia and played a crucial role in the title fight at WWE Raw.
At the beginning of the contest, Naomi faced Jax in the ring. The champion threw her rival into the ropes; thus, Lana tagged in. The challengers beat Nia up, and Baszler had to join the clash to save her partner. Lana and Naomi took over in a grueling brawl – they dropped Shayna down and were close to submit her. However, Baszler broke a waistlock and knocked Lana out of the ring.
When Lana came back to the battlefield, she fell prey to Shayna, who landed several stomps. Lana answered with a ferocious kick. Naomi took Baszler down, hit a head-scissors DDT and pinned the queen, but Shayna got back to her feet. Reginald intervened and turned the tables in his new friends' favor. He grasped Naomi's foot to distract her. At that moment, Jax powerbombed Lana and scored victory by pinfall.
Jax and Baszler won WWE Women's Tag Team Championship for the second time in January 2021 by defeating Asuka and Charlotte Flair. The ladies have retained their crowns only once, but WWE has already booked their next title defence for wrestling event Fastlane on March 21. They are set to take on a recently assembled star team of Sasha Banks and Bianca Belair. Banks is a reigning SmackDown champion, while Bianca is a winner of Royal Rumble 2021.