Finn Bálor lost the NXT title to Karrion Kross at NXT TakeOver: Stand and Deliver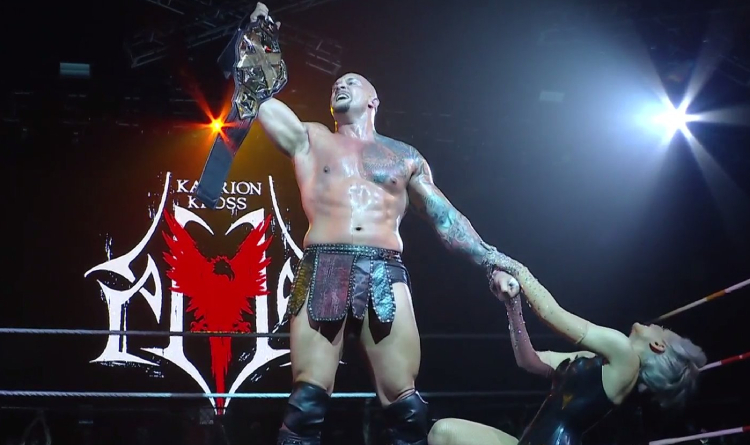 Kross celebrating victory over Bálor
NXT champion Finn Bálor lost his title to Karrion Kross at wrestling event NXT TakeOver: Stand and Deliver Night 2 on April 8.
Kross is the fourth athlete to capture the NXT belt twice
Early on in the contest, Bálor caught his rival in a headlock, but Kross broke the grip. The Prince landed a couple of kicks followed by a chop. Karrion grabbed the champion, tossed him across the ring and beat him up. Finn made 2 submission attempts, but Kross broke free and answered with a flurry of shots. Finn withstood the onslaughts and landed a combination of knees, elbows and stomps, followed by a finishing move Coup De Grace.
However, Karrion delivered a kick and went for a choke. The champion escaped and made another submission attempt. But Kross fought back with power strikes followed by a suplex. Karrion hit huge forearms and secured victory by pinfall.
Kross became the fourth wrestler to win the NXT crown twice. He earned the belt for the first time in 2020 but had to relinquish it due to an injury. Finn captured the gold in a clash against Adam Cole in September last year and retained it in 4 showdowns. However, Kross successfully dethroned the champion and ended his reign, which lasted 212 days.
In the 2021 season, Kross won 5 singles matches in a row, making a great comeback to NXT. His only defeat came in a tag team contest against Danny Burch and Oney Lorcan. Karrion joined forces with Bálor to challenge the champions, but Lorcan pinned Finn down.