Finn Bálor and Santos Escobar defended their titles at NXT New Year's Evil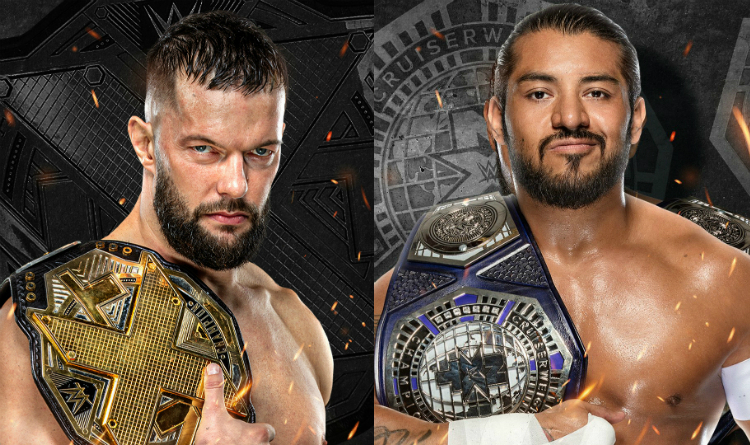 Bálor and Escobar with the NXT titles
NXT champions Finn Bálor and Santos Escobar defended their titles at NXT New Year's Evil, held on January 6 in Florida.
Kyle O'Reilly and Gran Metalik failed to win the belts
Bálor faced Kyle O'Reilly. Finn opened up quickly targeting Kyle's chin. But the Canadian landed a huge kick and dropped his opponent to the mat. Kyle caught his rival in a guillotine and a triangle choke; however, The Prince defended both submission attempts. Then, O'Reilly performed a big superplex; nevertheless, Bálor broke free and locked the contender in an abdominal stretch-crossface combination. The grip was tight, and Kyle was forced to submit. As a result, Finn defended the belt for the second time.
According to WWE, Bálor and O'Reilly were hospitalized following the fierce battle. Finn's arm might be injured due to a hard kick. Doctors also want to X-ray Kyle's jaw to make sure it is not broken.
Gran Metalik challenged cruiserweight king Escobar. The champion took a beating at the beginning of the contest but was able to withstand Metalik's attacks. The tide of the clash was turned in Santos' favor after Gran had slipped from the ropes. Escobar heaped the challenger on his shoulders and finished him with the Phantom Driver. Santos retained his belt and remained an undefeated champion.NXT New Year's Evil featured 3 women's fights as well. Savage Chinese wrestler Xia Li knocked out Katrina Cortez with a devastating step-up spinning kick. Rhea González put Rhea Ripley to sleep with a one-armed powerbomb. Kushida and Shotzi Blackheart defeated Johnny Gargano and Candice LeRae in a Mixed Tag Team Match.