Edge and Bianca Belair won at Royal Rumble and qualified for WrestleMania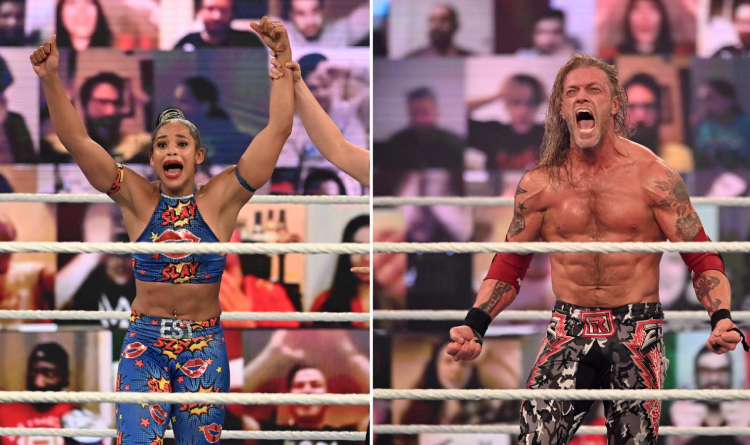 Edge and Belair celebrating victories
Canadian wrestler Edge and American athlete Bianca Belair won at Royal Rumble on January 31 and qualified for WrestleMania scheduled on April 10 and 11.
Belair set a new record in WWE
Edge was the first contestant to enter the Men's Royal Rumble. During the clash, Edge eliminated Strowman with the help of Christian and tossed Rollins over the rope in solo. Then, he faced his old foe Randy Orton. Randy attacked the Canadian with his finishing move RKO, but Edge reversed position and threw Orton away from the ring, securing victory.
Edge lasted 58:28 and became the third wrestler to win Royal Rumble from the first entry position. Moreover, he is among 8 athletes to triumph in the event more than once. Edge won Royal Rumble for the first time in 2010 and came back to WWE in 2020 after a 9-year hiatus.
Bianca joined the Women's Royal Rumble at the third spot. As a result of a fierce battle, only 4 ladies stayed in the ring: Belair, Natalya, Charlotte Flair and Rhea Ripley. Bianca eliminated Natalya and joined forces with Ripley to beat Flair. Afterwards, she took on her last rival Rhea. Belair managed to hurl Ripley away from the ring with a clothesline and won the tournament. Bianca gained victory at 56:49, setting a record for the longest entry in a female match. This is the first big win for Bianca in WWE.
Due to the victory at Royal Rumble, Edge has an opportunity to choose his opponent at WrestleMania 37. He can challenge either Universal champion Roman Reigns or WWE title-holder Drew McIntyre. Belair, as a Royal Rumble winner, will take on Raw queen Asuka or SmackDown champ Sasha Banks.