Bad Bunny defeated 24/7 champion Akira Tozawa at WWE Raw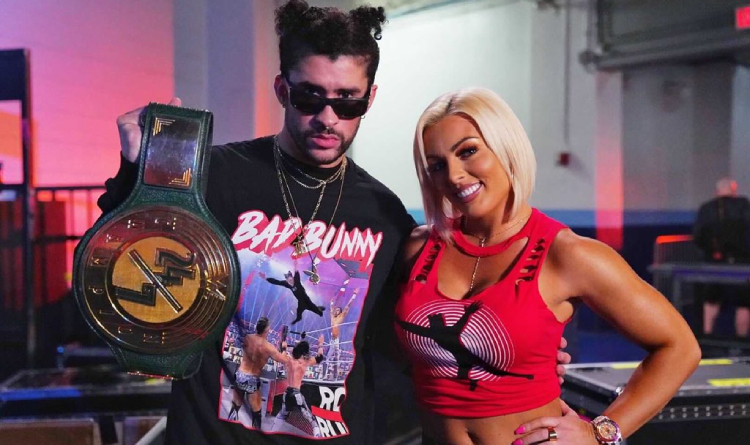 Mandy Rose and Bad Bunny holding the 24/7 belt
Puerto Rican rapper and reggaeton singer Benito Ocasio, known by his stage name Bad Bunny, defeated Akira Tozawa and became a new 24/7 champion at WWE Raw on February 15.
Tozawa lost the 24/7 belt in several seconds after capturing it
During this week's Monday Night Raw, Bad Bunny and his wrestling partner Damian Priest were giving an interview, when they were suddenly interrupted by a clash between Tozawa and R-Truth. Akira pinned his rival down and took the 24/7 title away from the champion, ending his 49th reign.
Tozawa was celebrating a victory, but he accidentally bumped into Priest. Damian knocked him out and told Bad Bunny to finish Akira lying on the floor. Ocasio took his friend's advice, held Tozawa on the ground before the referee counted 3 and picked up the 24/7 belt. Because of an unpredictable turn of events, Benito won the title.
Bad Bunny joined a fairly long list of non-wrestlers who held the 24/7 gold, including such big names as stock car racing driver Kyle Busch and American football player Rob Gronkowski. The latter set a record for the longest single reign, which lasted 67 days.
Benito Ocasio debuted in WWE at Royal Rumble on January 31. He performed his song Booker T, named after WWE Hall of Famer Booker T who quit his wrestling career in 2012. Later on in the show, he decided to intervene in a contest between Miz and John Morrisson. Bad Bunny went inside the ring and jumped on them from the ropes.