Adam Cole failed to take the WWE NXT title away from Finn Bálor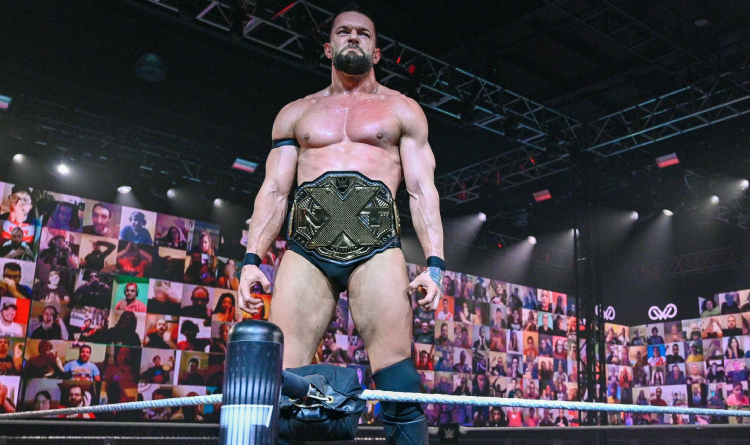 Bálor celebrating victory
WWE NXT champion Finn Bálor retained his belt in a clash against former NXT Tag Team title-holder Adam Cole at WWE NXT on March 10.
Karrion Kross to challenge Finn Bálor for the crown
Bálor took a lead at the beginning of the match. The Prince caught his rival in a side headlock, landed a dropkick after Cole broke the grip and attempted to submit him. Nevertheless, Adam got back to his feet and answered with a high boot. The wrestlers started brawling in the ring. Both athletes delivered heavy shots; however, Bálor turned the tables in his favor with a suplex.
Cole eventually locked The Prince in a crossface but failed to finish him. Finn brought the fight to the canvas and landed vicious ground and pound strikes. Adam kicked the opponent to the shin and was close to stop the action with a Panama Sunrise. However, Finn threw him over the ropes, and Kyle O'Reilly appeared out of nowhere to distract Adam. At that moment, Bálor delivered a combination of shots and pinned Cole down with Coup De Grace at 20:07.
O'Reilly entered the ring and attacked the fallen challenger. Adam took a hard beating but managed to escape when referees interfered. Kyle eventually avenged Cole for attacking him at NXT Takeover: Vengeance Day.
After the showdown, Karrion Kross came up to Finn standing in the ring with the belt. The athletes faced off, and WWE posted a comment, stating that the time for the battle between Bálor and Kross had come. Karrion won the NXT gold in August 2020, but his reign lasted only 4 days, because he had to vacate the title due to injury. However, Kross has recovered and is looking forward to taking his crown back.