Vieira vs Kunitskaya: will Russian Foxy beat Brazilian Fenomeno?
Ketlen to face Kunitskaya
A women's bantamweight clash between Ketlen Vieira and Yana Kunitskaya has been booked for the UFC Vegas 19 co-main event on February 20. Will Russian Foxy beat Brazilian Fenomeno?
Ketlen Vieira stats
Vieira started her MMA career in 2014 and amassed a record of 11-1. Fenomeno became a Mr. Cage champion in 2014 and defended the title twice. She won the Big Way belt in 2016 by defeating Estefani Almeida. Ketlen transitioned to the UFC in 2016. She scored a 4-fight winning streak in the promotion before suffering a loss to Irene Aldana. Last year, the Brazilian beat Sijara Eubanks and took sixth place at bantamweight.
Yana Kunitskaya stats
Kunitskaya has been competing in MMA since 2009. Her record stands at 13-5, 1 no contest. Foxy became an Invicta FC champion in 2016. However, her rival Tonya Evinger appealed the result of the clash, and Yana was stripped of the belt. She won the Invicta FC gold for the second time in 2017 and signed with the UFC. Kunitskaya faced champion Cris Cyborg in her debut bout in the promotion but lost by TKO. She won 3 of 4 next clashes and was ranked seventh at bantamweight.
Vieira vs Kunitskaya stats
Yana outnumbers Ketlen's significant strikes 2 to 1, but she takes 9% more shots per minute.
Vieira performs 30% fewer takedowns; however, she makes almost twice as many submission attempts.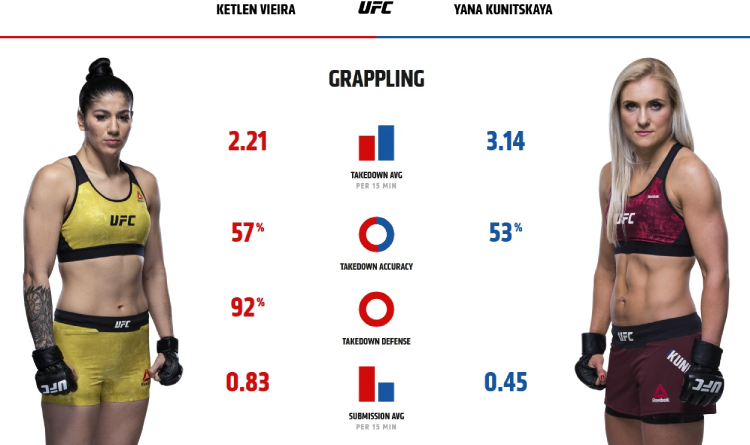 Vieira vs Kunitskaya preview
Yana went in for Taekwondo and Muay Thai, while Ketlen coached in striking martial arts only as a part of MMA training. Thus, Kunitskaya will definitely have an advantage on the feet. She is a much more accurate and versatile striker, employing a wider range of shots. Vieira throws knees and elbows less frequently and focuses on punches. The Brazilian's strengths are crisp boxing technique and solid defence.
Ketlen is an established grappler. She got black belts in Judo and BJJ. Kunitskaya trained in Russian mixed martial art ARB, but her wrestling skills are definitely lower than Vieira's. Furthermore, Fenomeno has an outstanding takedown defence (92%); therefore, Yana has a little chance to bring the fight to the canvas if she tries to.
Vieira's main forte lies in her great ability to mix strikes with grappling techniques. She covers her takedowns with shots to increase their succession rate. As a result, she managed to bring world Jiu-Jitsu champion Eubanks to the mat. Kunitskaya seems to be physically weaker; consequently, she will unlikely defend all takedown attempts and lose the contest.
Fenomeno scored 60% of victories before the time limit and her average fight time is 13:34. Nevertheless, Yana has an advantage on key offensive stats and slightly lags behind in terms of defensive abilities. Given these factors, Vieira is expected to win via decision.
The most probable fight results
Ketlen Vieira to win by decision (9/10);
Total rounds over 2.5 (9/25).
Disclaimer: Fight analysis is not a betting tip or a gambling advice of any sort. Our experts determine the most likely outcome of a sporting event based on statistics and personal views. Therefore, the actual result of a competition may differ from the predicted.