UFC 254: Khabib vs Gaethje – fight analysis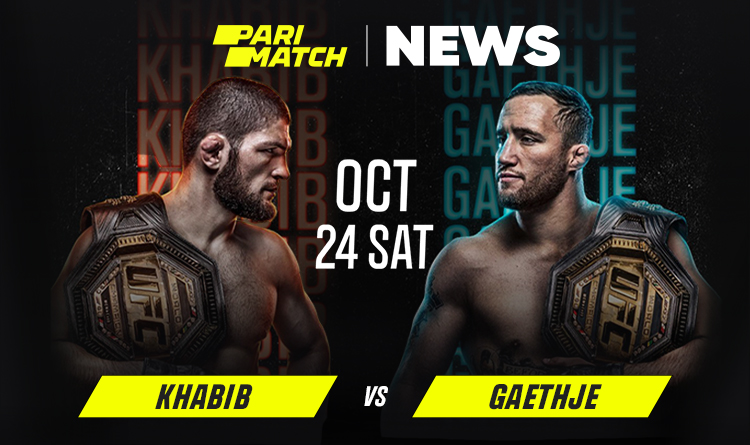 Khabib Nurmagomedov and Justin Gaethje are set to fight for the UFC lightweight title on October 24 at UFC 254 in Abu Dhabi. How will this bout play out and who has a better chance to win?
Khabib Nurmagomedov stats
The Eagle is an undefeated fighter with the longest win streak in MMA – 28. Nurmagomedov made his professional debut in 2008 and triumphed in the Pankration Atrium Cup 1. Khabib signed a contract with the UFC in 2012 and got a title shot in 2018 after defeating nine opponents. He won Al Iaquinta via unanimous decision in the fight for the vacant UFC Lightweight Championship. Nurmagomedov defended the belt against Conor McGregor in 2018 and submitted Dustin Poirier next year. Khabib received two Performance of the Night awards and set a record for the most takedowns in a single UFC bout – 21.
Justin Gaethje stats
The Highlight's record stands at 22-2. Gaethje began his MMA career in 2011 in the promotion ROF. Three years later Justin won the inaugural WSOF Lightweight Championship and defended the title five times. He transitioned to the UFC in 2017 and fought with Tony Ferguson for the interim UFC Lightweight Championship in May 2020. Gaethje won via TKO in the fifth round and became Khabib's next opponent. In UFC bouts Justin earned five bonuses for the best fight and four Performance of the Night awards.
Matchup stats
Khabib lands 45% less significant strikes per minute but Justin absorbs almost five times more punches and kicks.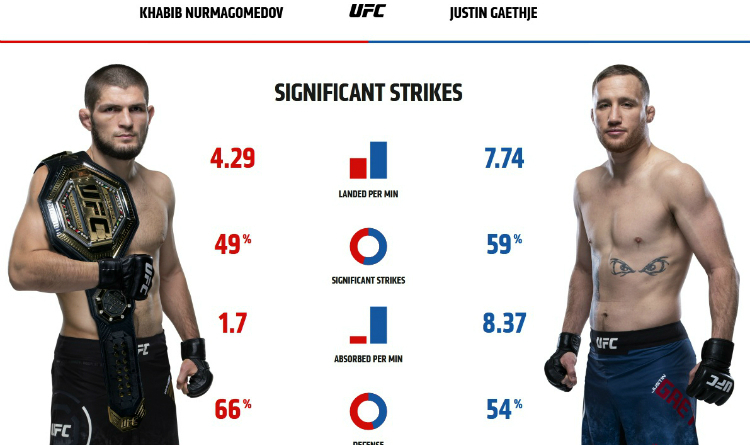 Gaethje has never performed takedowns and submissions in UFC bouts, while Nurmagomedov heads the list of lightweight fighters in terms of takedowns average number. Furthermore, Justin blocks only 80% of grappling attempts.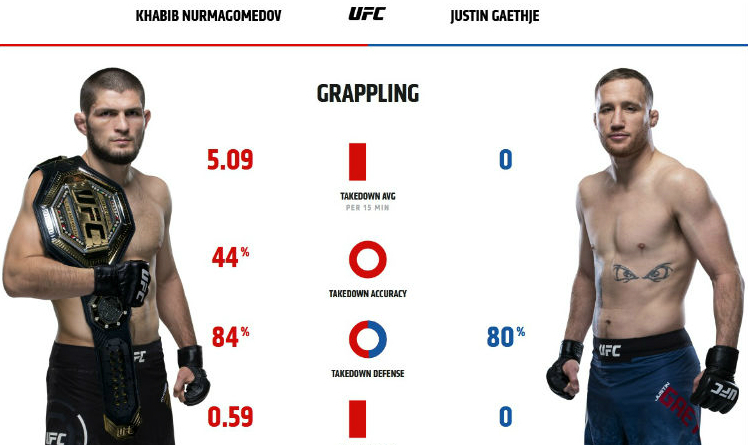 Khabib vs Gaethje preview
Gaethje wrestled in high school and participated in the NCAA Division I. The Highlight was a two-time state champion and secured four silver medals. Khabib trained in sambo and judo and became a world sambo champion in 2009 and 2010. Nurmagomedov often uses his wrestling skills in MMA and has won 36% of bouts by submission. Justin has never initiated grappling exchanges.
The Highlight is famous for his heavy punches – he won 86% of fights via KO/TKO. But Gaethje likes to brawl, often forgets about defense and takes too many strikes. The Eagle is not a puncher, however his boxing technique is perfectly suited for MMA. Nurmagomedov won eight fights by KO and knocked down such a talented striker as Conor McGregor. Moreover, Khabib's defense is impressive – he rarely absorbs strikes and has never been bruised in UFC bouts.
Conclusion: Khabib outperforms Gaethje on key matchup stats. Justin is unlikely to defend all takedowns and finds himself on the canvas sooner or later. Therefore, Nurmagomedov has a much better chance to be victorious. The Eagle will most probably focus on ground-and-pound and eventually submit Justin. Khabib's win by KO/TKO is improbable, as he has not knocked his opponents out since 2016.