Sandhagen vs Edgar: will The Sandman defeat Frankie?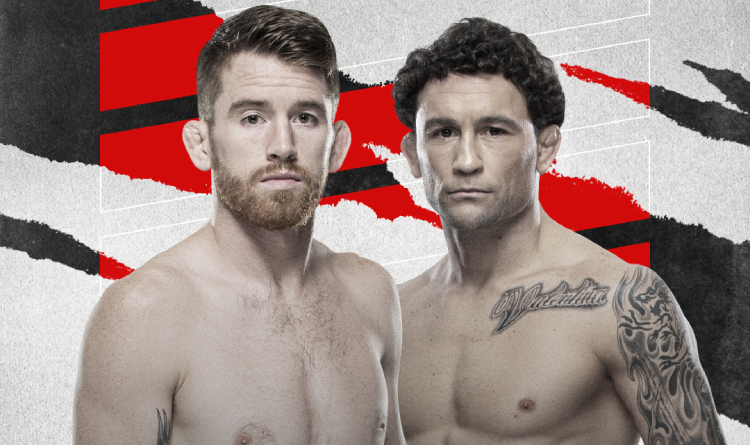 Sandhagen to fight Edgar
Bantamweights Cory Sandhagen and Frankie Edgar are to fight in the UFC Vegas 18 co-main event on February 6. Will The Sandman defeat the MMA veteran?
Cory Sandhagen stats
Sandhagen started his professional MMA career in 2015 and amassed a record of 13-2. The Sandman earned the SCL title in 2016 and transitioned to the UFC 2 years later. In the promotion, he won 5 consecutive bouts before suffering the first loss to Aljamain Sterling in 2020. In October last year, Cory knocked Marlon Moraes out and took second place at bantamweight. He has never been a title contender in the UFC but earned a bonus for the best performance and a "Fight of the Night" prize.
Frankie Edgar stats
Edgar has been competing in MMA since 2005. His record stands at 24-8-1. The Answer became a Reality Fighting champion in 2006 and joined the UFC roster. In 2010, he won the UFC belt at lightweight and defended it thrice. Frankie moved down to featherweight to face Jose Aldo for the title. However, the contest resulted in his defeat. Edgar challenged champion Max Holloway in 2019 but again failed to win the gold. After dropping a TKO to Chan Sung Jung, Frankie transitioned to bantamweight and beat Pedro Munhoz in his debut in 2020. He is currently ranked fourth in the 135-pound division.
Sandhagen vs Edgar stats
Cory lands almost twice as many shots per minute, but Frankie takes 39% fewer strikes.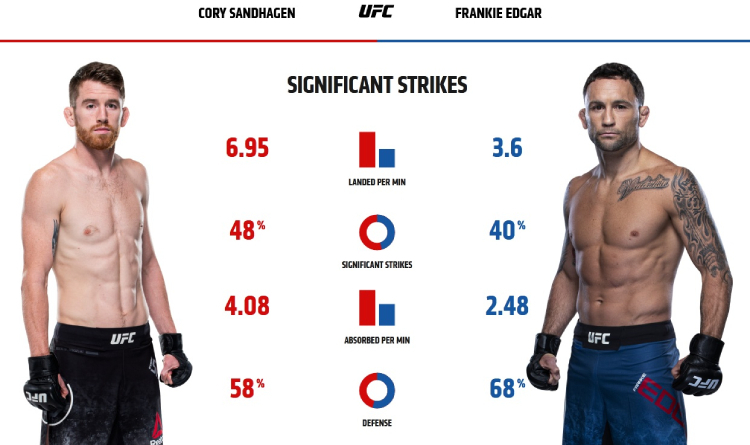 Edgar outnumbers Sandhagen's takedowns nearly 2 to 1; however, Cory makes submission attempts 76% more frequently.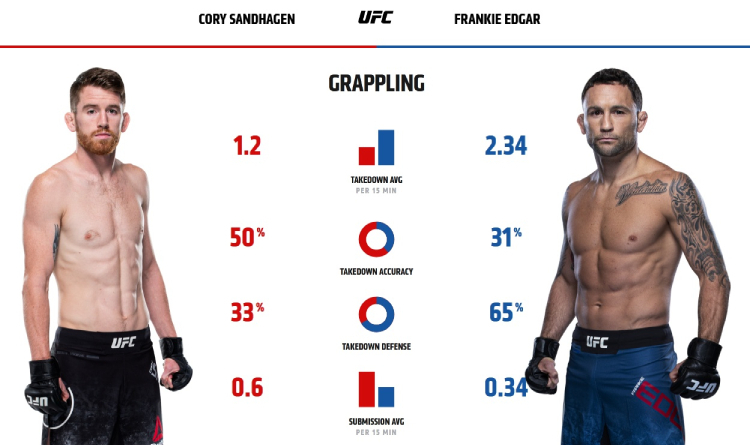 Sandhagen vs Edgar preview
Cory trained in kickboxing and won a WKA world title. Frankie coached in boxing and Muay Thai, but he never participated in striking martial arts tournaments. In spite of Muay Thai background, Edgar focuses on punches. Sandhagen is a more accurate fighter and employs a wider range of shots, as he throws kicks and knees more often, but his defence is noticeably weaker.
Edgar got a first-degree black belt in BJJ and competed in NCAA Division I Wrestling, while Cory got a brown belt in BJJ. Therefore, Frankie is a more accomplished grappler; however, his takedown accuracy is very low. Sandhagen, on the other hand, denies only 33% of attempts to bring the fight to the canvas.
In case Cory maintains distance, he will certainly beat Frankie up on the feet. In his last bout against Marlon Moraes, Sandhagen demonstrated great footwork and managed to keep his rival at the end of his strikes. Given Edgar's 2-inch reach disadvantage and low takedown accuracy, he has little odds to impose his game plan and realize his edge in wrestling.
The Sandman's knockout rate stands at 38%, but The Answer suffered 25% of losses by KO/TKO and dropped unanimous decisions in 5-round contests against such expert strikers as Max Holloway and Jose Aldo. Besides, Cory's skills in BJJ might not be enough to submit Frankie. Consequently, Sandhagen will likely win by decision.
The most probable fight results
Cory Sandhagen to win by decision (19/20);
Total rounds over 2.5 (9/20).
Disclaimer: Fight analysis is not a betting tip or a gambling advice of any sort. Our experts determine the most likely outcome of a sporting event based on statistics and personal views. Therefore, the actual result of a competition may differ from the predicted.