Poirier vs McGregor: will Conor crush The Diamond?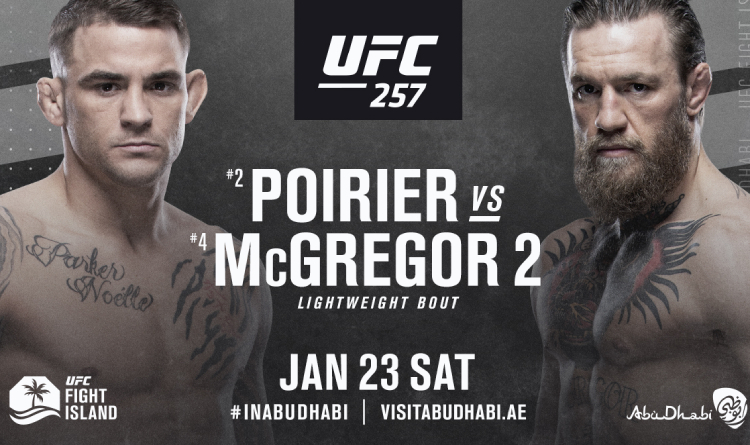 Poirier to fight McGregor
A lightweight bout between Dustin Poirier and Conor McGregor is set to headline UFC 257 on January 23. Will Notorious crush The Diamond?
Dustin Poirier stats
Poirier started his MMA career in 2009. His record stands at 26-6, 1 no contest. The Diamond signed with the UFC in 2011. He had been competing at flyweight until 2015, but decided to move up to lightweight after suffering a loss to McGregor. In 2019, Dustin faced Max Holloway in a clash for the interim title. He beat Max and took on undisputed champion Khabib Nurmagomedov in 2019. The Eagle submitted Poirier and defended his gold. Last year, Dustin defeated Dan Hooker and took second place at lightweight.
Conor McGregor stats
McGregor began competing in MMA in 2008 and compiled a record of 22-4. Notorious won the Cage Warriors championship at lightweight and featherweight in 2012 and transitioned to the UFC. 3 years later, Conor won the interim featherweight belt and unified the title by defeating Jose Aldo. McGregor dethroned lightweight king Eddie Alvarez in 2016, but he was stripped of the belt due to inactivity. In 2018, Conor got a second title shot in the 155-pound division against Nurmagomedov. The fight resulted in his loss by submission. The Irish is currently ranked fourth at lightweight.
Poirier vs McGregor stats
Dustin lands 3% more shots per minute and absorbs 16% fewer strikes.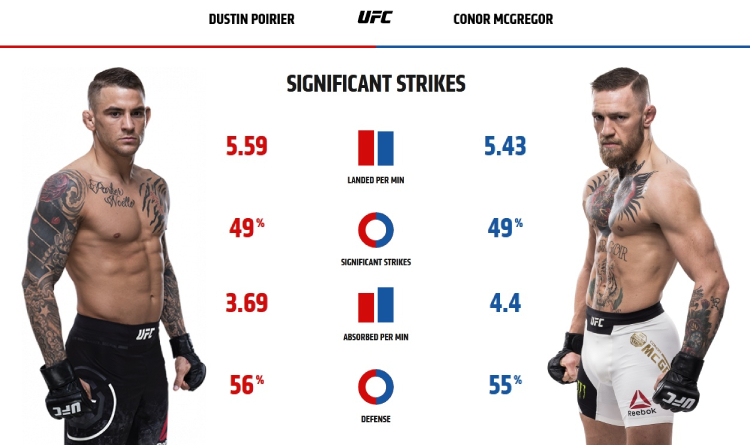 Poirier outnumbers Conor's takedowns almost 2 to 1. Besides, McGregor has never made submission attempts in UFC fights.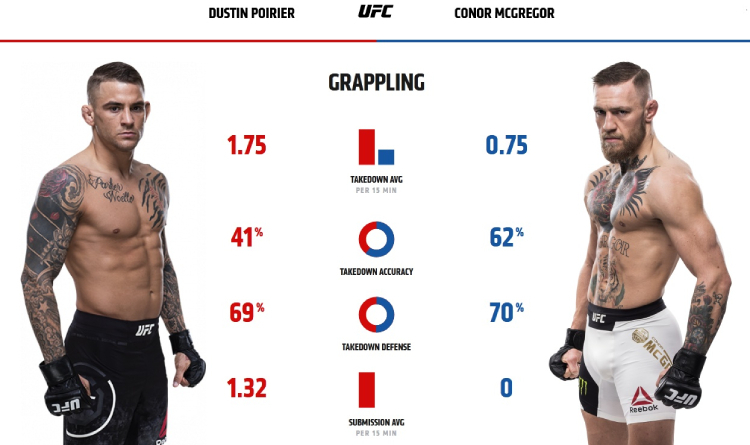 Poirier vs McGregor preview
Both athletes have crisp boxing skills, but their styles are different. Poirier tends to fight in the close range and throws combinations much more often. Conor, on the other hand, prefers keeping his rivals on the end of his punches and bets on a single shot. Dustin might be called a machine gunner, while McGregor is definitely a sniper.
Poirier got a black belt in Brazilian Jiu-Jitsu, but McGregor earned a brown belt in BJJ. Therefore, Dustin is a more virtuoso and accomplished grappler. The Diamond uses his wrestling skills offensively more frequently. Conor, as a rule, initiates clinch and grappling exchanges to defend himself, for instance, after he takes a hard blow.
None of the fighters has an edge in accuracy and overall striking defence. However, Dustin clearly lags behind in terms of power and speed. Conor's forte lies in an extremely wide stance, which serves 2 purposes: to improve the chance to dodge a strike and to increase punch force. McGregor has an impressive takedown defence. He denied 8 of 14 attempts to bring the bout to the canvas in a contest against Khabib. Given this fact and Dustin's relatively low takedown accuracy, he has a little chance to take full advantage of his grappling abilities.
Considering all these factors, McGregor will likely dominate Dustin on the feet and win the showdown. Notorious knockout rate is very high – 86%; thus, he is expected to beat Poirier by KO/TKO. Conor's average winning round is second. His game plan is to open up quickly and finish a rival as fast as possible. Dustin, on the other hand, starts slowly and begins ramping up the pace in the third heat. Consequently, if McGregor takes a lead he is poised to knock Dustin out within 2 rounds.
The most probable fight results
Conor McGregor to win by KO/TKO/DQ (57/100);
Total rounds under 2.5 (53/100).
Disclaimer: Fight analysis is not a betting tip or a gambling advice of any sort. Our experts determine the most likely outcome of a sporting event based on statistics and personal views. Therefore, the actual result of a competition may differ from the predicted.