Gastelum vs Heinisch: who triumphs at UFC 258?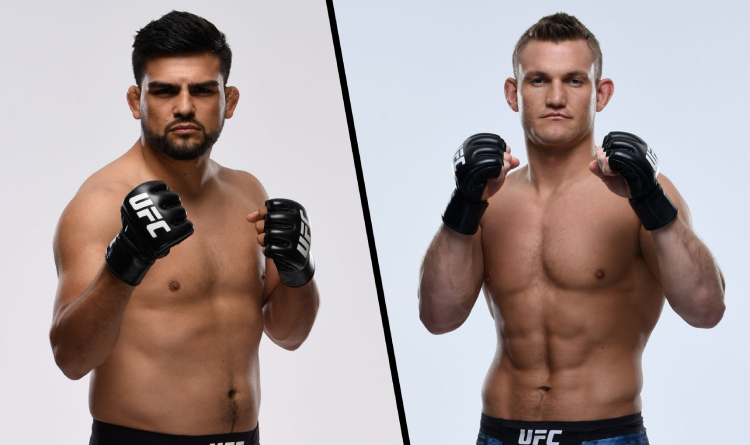 Gastelum to fight Heinisch
A middleweight bout between Kelvin Gastelum and Ian Heinisch has been booked for UFC 258 scheduled on February 13. Who has a better chance to triumph at the event?
Kelvin Gastelum stats
Gastelum began his professional MMA career in 2010 and amassed a record of 15-6, 1 no contest. He won The Ultimate Fighter 17 and struck a deal with the UFC in 2013. Kelvin had competed at welterweight before dropping a split decision to Tyron Woodley in 2015. Then he moved up to middleweight and faced Israel Adesanya for the interim title in 2019, but the contest resulted in his loss. Afterwards, Gastelum was defeated by Darren Till and Jack Hermansson. He is currently riding on a 3-fight losing streak but takes ninth place at middleweight.
Ian Heinisch stats
Heinisch made his MMA debut in 2015. His record stands at 14-3. Ian became the SCL champion in 2015 and defended the belt twice. In 2018, he won the LFA gold, gained victory at Dana White's Contender Series 15 and signed a contract with the UFC. In the promotion, Heinisch won 3 of 5 clashes. He cut off a 2-fight losing streak by knocking Gerald Meerschaert out and took 15th place at middleweight last year.
Gastelum vs Heinisch stats
Kelvin lands 5% more shots per minute and takes 5% fewer strikes.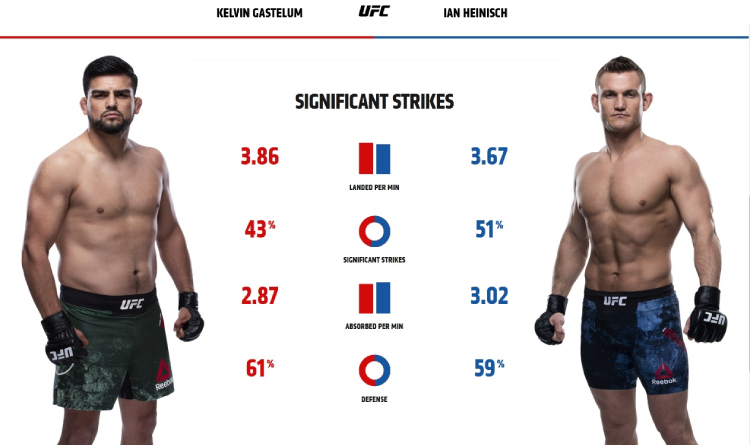 Ian performs takedowns 49% more frequently and outnumbers Gastelum's submission attempts 2.7 to 1.
Gastelum vs Heinisch preview
Kelvin coached in striking martial arts only as a part of MMA training, while Heinisch went in for Muay Thai. Nevertheless, Gastelum looks slightly better on the feet. He delivers more strikes and absorbs fewer blows. Ian, on the other hand, is a more creative striker employing a wider range of shots. Nevertheless, both athletes focus on punches and rarely throw kicks, elbows and knees.
Gastelum took part in wrestling tournaments in high school and earned a black belt in BJJ. Heinisch participated in wrestling competitions as well, but he has no regalia in Jiu-Jitsu. Consequently, Kelvin is a more experienced grappler at least on paper. Statistics show that Ian initiates exchanges on the ground more often; however, his takedown accuracy is much lower.
Kelvin faced stronger opponents in the UFC and beat such famous middleweights as Ronaldo Souza and Michael Bisping. The biggest name Heinisch defeated was Gerald Meerschaert. Considering this factor, Kelvin will likely outclass his opponent despite Ian's advantage in grappling. Gastelum's finish rate is relatively high – 67%. But Heinisch is extraordinarily tough. He has suffered 33% of defeats by submission and never been stopped in the UFC. Thus, Gastelum is expected to win via decision.
The most probable fight results
Kelvin Gastelum to win by decision (6/5);
Total rounds over 2.5 (2/5).
Disclaimer: Fight analysis is not a betting tip or a gambling advice of any sort. Our experts determine the most likely outcome of a sporting event based on statistics and personal views. Therefore, the actual result of a competition may differ from the predicted.