Condit vs Brown: will The Immortal fall prey to The Killer?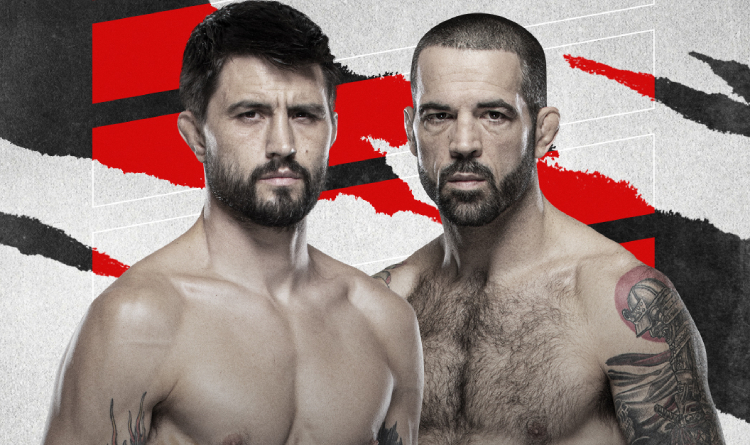 Condit to take on Brown
Welterweights Carlos Condit and Matt Brown will clash in the UFC Fight Island 7 co-main event on January 16. Will The Natural Born Killer defeat The Immortal?
Carlos Condit stats
Condit started his MMA career in 2002 and amassed a record of 31-13. The Killer made his way to the ROTR tournament final in 2006 but dropped a decision to Jake Shields and failed to win the belt. Next year, Carlos beat John Alessio in a contest for the vacant WEC title. He defended the gold thrice and transitioned to the UFC in 2009. Condit won the interim UFC belt in 2012; however, he lost a showdown against undisputed champion Georges St-Pierre. 4 years later, Carlos got a second title shot, but Robbie Lawler defeated him. In 2020, Condit won a contest against Court McGee and cut off a 4-fight losing streak.
Matt Brown stats
Brown began competing in MMA as a pro in 2005. His record currently stands at 22-17. The Immortal knocked out Douglas Lima, became the ISCF East Coast champion in 2007 and signed with the UFC next year. At the beginning of his career in the promotion, Matt lost 5 of 10 bouts. Afterwards, he compiled a 7-fight winning streak and took on Robbie Lawler in a title eliminator. The contest resulted in his defeat via decision. In 2016-2020, Brown won 2 of 6 fights and dropped out of the UFC rankings.
Condit vs Brown stats
Matt lands 3% more shots per minute, but Carlos takes 6% fewer strikes.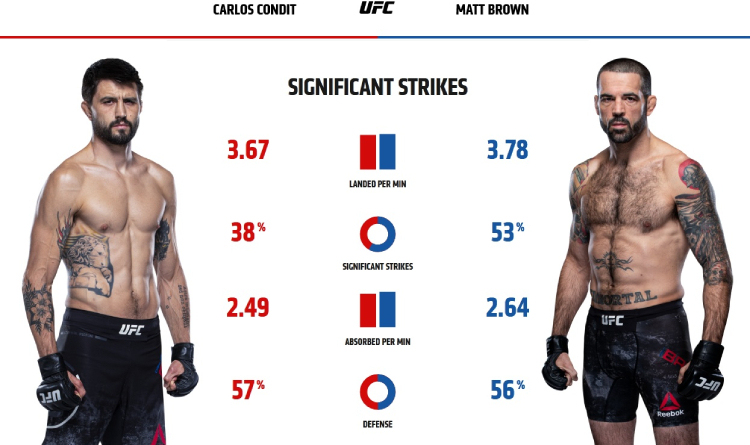 Brown outnumbers Condit's takedowns 2.6 to 1 and makes 33% more submission attempts.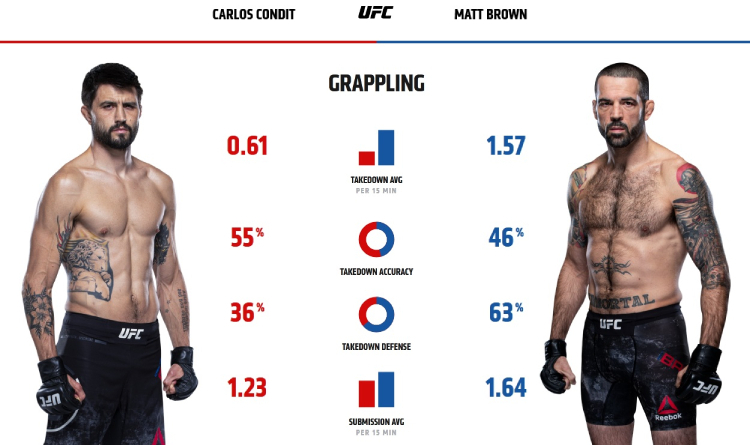 Condit vs Brown preview
Neither of the athletes trained in striking martial arts. Nevertheless, their techniques are quite similar. Both of them focus on punches and rarely land kicks. Brown packs more punching power and has a clear edge in accuracy. However, Condit absorbs fewer shots. Matt's main weakness lies in a flawed striking defence. In his last bout against Miguel Baeza, it became evident that Brown's reflexes were slow, because he often failed to react to the opponent's blows.
Carlos got a brown belt in BJJ and a black one in Gaidojutsu. Matt, on the other hand, earned brown belts in BJJ and Judo, as well as a green belt in Jujutsu. Therefore, The Immortal is a more experienced and proficient grappler. Besides, Condit uses his wrestling skills offensively less frequently and has a weak takedown defence. Consequently, Brown will be able to bring the fight to the mat in case he wants to.
Matt has a better ground game and will likely outperform Carlos on the feet due to a power advantage. Condit is not a hard striker as his knockout rate stands at 48%. Thus, The Immortal faces a low risk of taking a severe blow. Brown gained 92% of victories before the time limit. But Condit has a solid grappling background and good striking skills. Given these factors, Matt has little odds to stop Carlos. He will most probably win by decision.
The most probable fight results
Matt Brown to win by decision (15/4);
Total rounds over 2.5 (17/20).
Disclaimer: Fight analysis is not a betting tip or a gambling advice of any sort. Our experts determine the most likely outcome of a sporting event based on statistics and personal views. Therefore, the actual result of a competition may differ from the predicted.