Blachowicz vs Adesanya: will Israel become UFC double champion?
Blachowicz to take on Adesanya
Jan Blachowicz is set to defend the light heavyweight belt against middleweight title-holder Israel Adesanya in the UFC 259 main event. Will The Last Stylebender become a double champion?
Jan Blachowicz stats
Blachowicz began his MMA career in 2007 and amassed a record of 27-8. In 2007-2010, Prince of Cieszyn won the KSW Light Heavyweight Tournament thrice. He captured the KSW title in 2011, defended it twice and transitioned to the UFC in 2014. Blachowicz suffered 4 losses in first 6 bouts in the promotion. But he got back on a victory track in 2017. Jan won 4 consecutive clashes but dropped a TKO to Thiago Santos in 2019. Nevertheless, the Polish scored victories in 3 next contests and got a title shot against Dominick Reyes last year. Jan knocked his opponent out and won the gold.
Israel Adesanya stats
Adesanya has been competing in MMA since 2012. He is an undefeated fighter with a stunning record of 20-0. The Last Stylebender became an AFC and Hex Fight Series champion in 2017 and signed with the UFC. He took on Kelvin Gastelum for the interim middleweight belt in 2019 and defeated his opponent by decision. A unification showdown against Robert Whittaker resulted in Adesanya's victory by KO. Last year, Israel defeated title contenders Yoel Romero and Paulo Costa. Then he decided to move up to light heavyweight to challenge Blachowicz.
Blachowicz vs Adesanya stats
Israel lands 19% more shots per minute and takes 16% fewer strikes.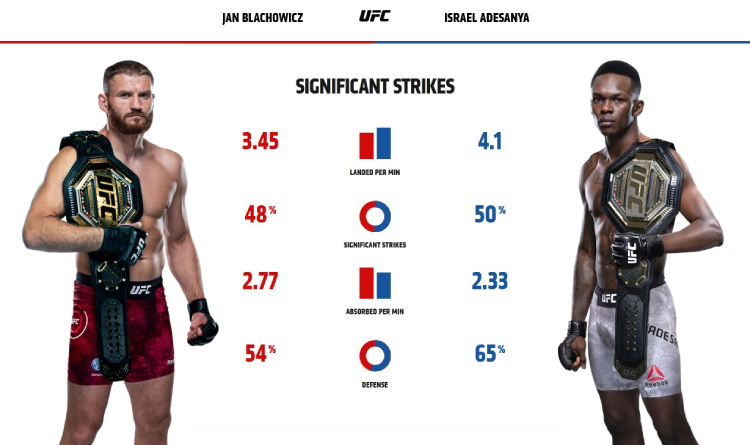 Unlike his rival, Jan performs takedowns but makes submission attempts 18% less frequently. However, Adesanya has a better defence.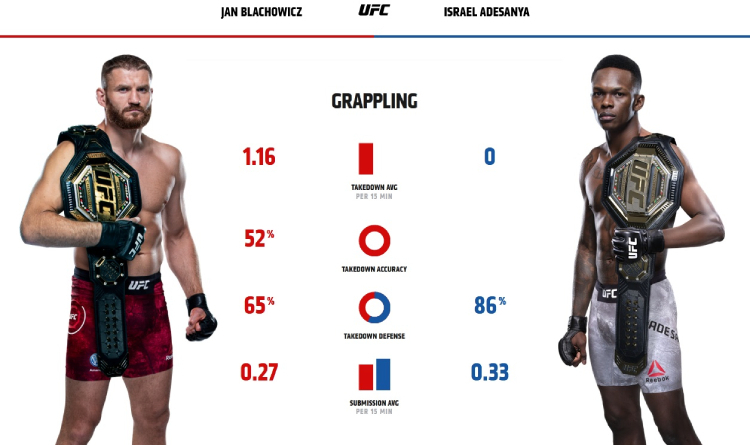 Blachowicz vs Adesanya preview
Israel compiled a record of 80-5 in kickboxing and 5-1 in boxing. Jan trained in boxing but never participated in tournaments. Adesanya spent at least 700 minutes in the ring; thus, he is a much more experienced striker. The Last Stylebender has an advantage in speed and uses a wider range of shots, while Jan is more powerful.
Blachowicz coached in judo at school. Israel got a purple belt in BJJ. Therefore, Israel has crisper grappling skills at least on paper. The Last Stylebender prefers fighting on the feet and eschews wrestling exchanges. Jan focuses on striking as well and rarely uses his grappling abilities offensively.
The Last Stylebender looks better at a medium distance and works at a close range not worse than Jan does. Given Israel's edge in striking, he has a better chance to win the clash. Blachowicz might try to bring the fight to the canvas to nullify his rival's offensive skills. But he has low odds to make a takedown because of Israel's solid defence.
Adesanya's knockout rate stands at 75%, but Blachowicz suffered only 25% of losses by TKO. Moreover, both martial artists avoid brawls and fight measuredly. Considering these factors, Israel will likely win via decision.
The most probable fight results
Israel Adesanya to win by decision (5/2);
Total rounds over 4.5 (7/5).
Disclaimer: Fight analysis is not a betting tip or a gambling advice of any sort. Our experts determine the most likely outcome of a sporting event based on statistics and personal views. Therefore, the actual result of a competition may differ from the predicted.