Allen vs Yusuff: will Almighty take over Super Sodiq at UFC Vegas 23?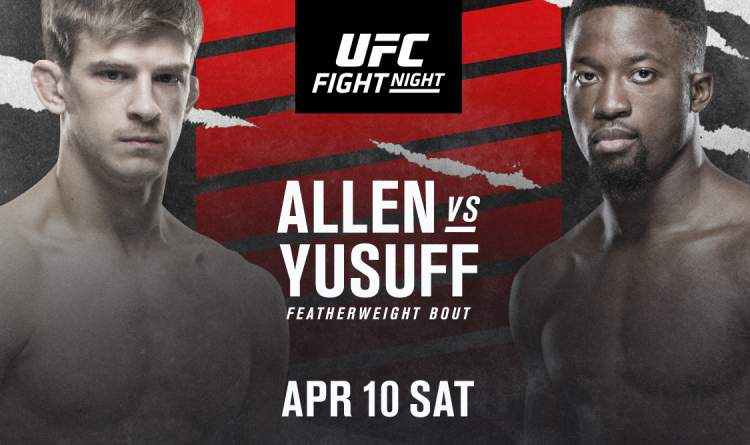 Allen to face Yusuff
Arnold Allen and Sodiq Yusuff are set to fight in the UFC Vegas 23 co-main event on April 10. Who has a better chance to secure victory in the showdown?
Arnold Allen stats
Allen has been competing in MMA since 2012. His current record stands at 16-1. Almighty captured the M4TC title in 2014 and transitioned to the UFC. In the promotion, Arnold defeated 7 opponents in a row. Following his win over Nik Lentz last year, Allen was ranked 10th at featherweight. Arnold suffered the only career loss in 2014. He is riding on a whopping 9-fight winning streak.
Sodiq Yusuff stats
Yusuff began his MMA career in 2016 and amassed a record of 11-1. Super faced Luis Gomez for the Titan FC title in 2017 but lost by knockout. A year later, he beat Mike Davis at Dana White's Contender Series 14 and struck a deal with the UFC. In the promotion, Sodiq scored victories in 4 consecutive clashes. He beat Andre Fili last year and extended his winning streak to 6 bouts. Yusuff takes 11th place at featherweight.
Allen vs Yusuff stats
Sodiq outnumbers Arnold's shots almost 2 to 1, but he absorbs nearly twice as many blows.
Allen, in contrast to Yusuff, performed takedowns in UFC contests. Besides, Almighty has a better defence and makes submission attempts 55% more frequently.
Allen vs Yusuff preview
Arnold went in for kickboxing and compiled a record of 3-0 as a kickboxer. Sodiq, on the other hand, coached in striking martial arts only during MMA training. Nevertheless, both athletes have their strengths. Super outperforms his rival on offensive stats, but Almighty's defence is more solid. Sodiq also has a slight speed advantage and employs a wider range of strikes. There are kicks, elbows and knees in Arnold's arsenal, but he focuses on punches.
Allen got a purple belt in BJJ, while Yusuff has no regalia in grappling. Therefore, Arnold will likely take the lead in wrestling exchanges. Sodiq denies 72% of attempts to bring the fight to the canvas. However, Super failed to defend 3 takedowns (43% of attempts) in his previous clash against Fili. Given this factor, Arnold will have a chance to bring his rival down to the mat and take full advantage of his grappling skills. Nevertheless, Yusuff is extremely hard to control on the ground.
Considering Allen's edge in wrestling and Sodiq's weak striking defence, Arnold is expected to win the bout. Almighty's finish rate is relatively low – 56%, and Super has been stopped only once. Consequently, Allen is poised to score victory via decision. Arnold's average fight time is 14:12, Yusuff's – 10:18. Thus, the contest will most probably last at least 2 rounds.
The most probable fight results
Arnold Allen to win by decision (13/5);
Total rounds over 2.5 (1/2).
Disclaimer: Fight analysis is not a betting tip or a gambling advice of any sort. Our experts determine the most likely outcome of a sporting event based on statistics and personal views. Therefore, the actual result of a competition may differ from the predicted.