Ugo Humbert: "It's one of my most important wins. I did that, and I'm very proud of myself"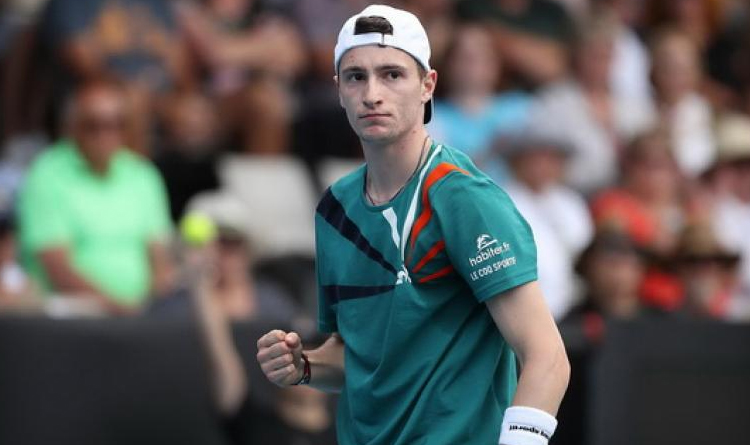 Getty Images
Ugo Humbert became the sixth player with multiple ATP titles in 2020 on Sunday. He entered the top-40 at the end of September, claiming the first ATP crown at the beginning of the season in Auckland. After a tight loss to Andrey Rublev, Humbert defeated five rivals. So he began to claim the second ATP title in Antwerp, becoming the sixth player with repeated trophies in 2020.
Ugo fended off in the semis four match points against Daniel Evans, setting the title clash against the "tennis demon" Alex de Minaur. Toppling de Minaur 6-1, 7-6 in an hour and 37 minutes, Humbert earned 250 points and became world number 32.
The Frenchman delivered more efficient numbers behind the second serve, leaving the opponent far behind in the opener and never losing serve. Reaching the tie break, Alex bounced back in set number two. However, losing it 7-4 to hand the title to his opponent.
After earning a break a few minutes later after a forehand error from Alex, a left-hander held at love in the first game with four booming serves. In the third game, Ugo fended off a break chance with a service winner and closed the game with another one to move 3-0 in front.
Saving another break chance with a service winner in game five, Humbert converted the fourth opportunity in the marathon game six to gain a 5-1 lead. Then securing the opener with another powerful serve in game seven, the Frenchman moved a set away from the title after 38 minutes.
To remain in front, De Minaur held at the beginning of the second set with a service winner and produced another one at 1-1. With a volley winner, Humbert levelled the score at 2-2 before the Aussie held at love. Ugo held at love with an ace following that pace with only eight points for the returners in the opening six games.
Ugo Humbert is thrilled with the way he performed in Antwerp.
There were no problems for the servers in games seven and eight, staying even neck and neck. Then Alex sprayed a forehand error and faced two break points at 4-4. De Minaur saved both with no room for mistakes and held after a lucky net cord winner. He forced Ugo to serve for staying in the set.
Reaching the tie break after two comfortable holds on both sides, the Frenchman brought the game home with a volley winner to level the score at 5-5. De Minaur lost four points in a row from 3-1 up and found himself 5-3 down. And then he made a forehand mistake to offer two match points to Humbert at 4-6.
Converting the first with a volley winner, the Frenchman secured the second title of the season and moved closer to the place in the top-30. "It is one of my most important wins. I'm delighted to win my second title this year against such a great player."
"Like the previous matches, I was aggressive enough, and I'm proud about going all the way. Tennis is absolutely crazy sometimes. It was nice to win against Evans yesterday especially after saving four match points. I don't even know what happened today. It was a great level, a great match."
I think I played good on critical points. In the tie-break, I tried to stay focused and play point-by-point. I did that, and I'm very proud of myself,"

Ugo Humbert