Mallorca Golf Tournament – Tennis Star Nadal Secured 6th Place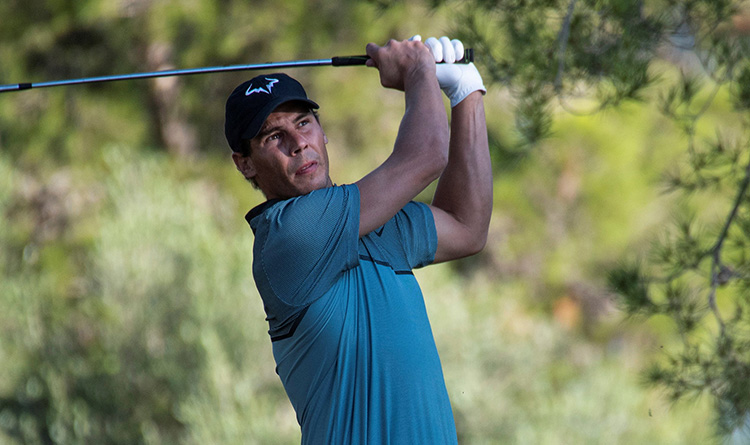 We Are Tennis/Twitter
34-year-old Spanish tennis star Rafael Nadal nets sixth position in the Balearic Golf Championship in Llucmajor, Mallorca. The Spaniard recorded 9 over par after 27 holes in the three-day event.
After clinching 13th French Open title, now Rafael Nadal has grabbed another amazing victory. But this time, it's not on the Tennis court. He secured the top 10th position in the Balearic Golf Pro-Am event on Monday.
The event features a total of 60 contestants – 60 are experts, and others are amateur players. Nadal participated in the tournament on October 24, 2020. He competed in a golf event after getting a victory at Roland Garros.
World No. 2 appeared to be enjoyed a lot at the three-days of the championship over the weekend. It was not Nadal's first attempt into the sport. The famous Spaniard finished second place last weekend in V Test Circuit Hexagonal held in Calvia.
Rafa Ranked 10th on First Day and 7th At the End
The famous golf champion posted more than 9 over 54 holes in October. Nadal has a golf handicap of +0.3 and has also participated in the Balearic Golf event earlier. As per the reports, Rafael Nadal is competing in a 60-strong field, featuring 23 professionals and 37 newbies.
Nadal had ranked tenth on the first day of the Balearic Golf Championship. On the final day, the star posted +5 after +2 on the opening days of action.
The Mallorcan finished ten shots behind the golf championship winner Sebastian Garcia. Sebastian finished one under par to grab home the title. The incredible achievement he has got justifies his foothold in the discipline.
It appears that the talented footballer is all set to deliver an amazing performance in the Rolex Paris Masters 2020. It is set to begin at the end of this month.
An interesting thing to note is that Nadal plays golf right-handed and tennis left-handed. Earlier at the French Open 2020, Nadal beat Novak Djokovic in a one-sided final and moved to another level with Federer for 20 Grand Slam titles.