Team Norway beats ROC to win gold in men's beach volleyball; Qatar gets bronze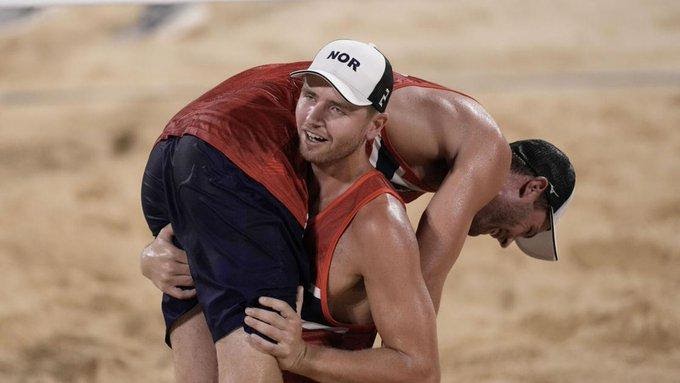 Quad-City Times/ Twitter
The Norwegian World's No 1 duo, Christian Sandlie Sorum and Anders Berntsen Mol are now an official Olympics champion in men's beach volleyball after beating team ROC, Qatar gets their hands on bronze after defeating Latvia.
Despite the cloudy weather and rain at the capital, the sun finally came out as it was a celebration day for team Norway's best duo, Anders Mol and Christian Sorum after defeating team ROC's Viacheslav Krasilnikov and Oleg Stoyanovskiy in a nail-biting men's beach volleyball final at Shiozake Park.
Starting the match, ROC had a slight lead over Norway, Mol's killer blocks, and Sorum's aces took the momentum from there to win the first set by 21-17.
In the second round, it was a tough contest between both sides and the negligence from ROC cost them points with Norway going for the kill to get themselves a golden victory of 21-18 to get Norway its first Olympic medal in beach volleyball.
"We know this team very well, and we want to serve Krasilnikov because we have been playing well against him before. They served strong in the beginning, they always do. But we knew that if we found a rhythm with our side out we would get some points in the block,"

Sorum said.
"It was just an amazing feeling to play at this high level in the Olympic final."
Mol, whose mother competed in Atlanta in 1996 in women's beach volleyball, was quite impressed by her son's achievement not only that he made history for Norway but also surpassed his mother's records.
"I always dreamed of beating my mum in the Olympics. She got a ninth (place). I was actually really happy when we made it to the quarterfinals because we became historical by achieving (at least) the fifth place," Mol said.
"It has been a journey for a long time and our parents and families are very proud of us right now."
The duo has won the third Olympic gold medal for Norway at Tokyo 2020, following Karsten Warholm's title in the men's 400 hurdles and Kristian Blummenfelt's Olympic gold at the men's triathlon.
QATAR TAKES BRONZE
Qatar's Cherif Younousse kissed the sand beneath his feet in excitement after getting a victory in the men's beach volleyball to get bronze, in a match against Latvia along with teammate Ahmed Tijan.
The duo from team Qatar won two straight sets against Latvia's Martins Plavins and Elgars Tocs to reserve their spot on the podium.
Even though the two teams locked horns in the early round, Younousse's amazing kill block skills helped Qatar finished their first set by 21-12 against their opponent.
Latvia led the second round by 3-0, but Qatar without wasting any time came back stronger with serves and blocks to even the points.
With Plavins and Tocs not finding any momentum towards their side against merciless Qatar, the set ultimately ended at 21-18 with Qatar getting bronze.
Also, Qatar won its first-ever Olympic medal in beach volleyball.