Parimatch News Derby is coming! Tell us whose side you're on and win exclusive merchandise!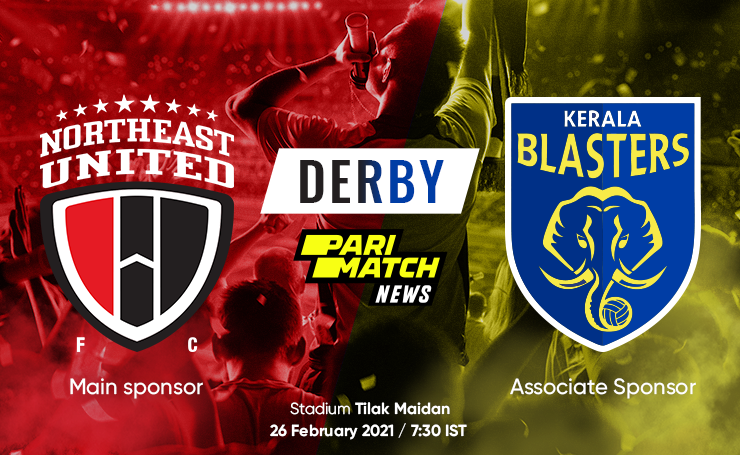 NEUFC v KBFC match is a high time to sign-up at PMNews as we have 15 prizes!
Tell us who you'll support during the ISL match between NEUFC and KBFC. Stand a chance to win signed jerseys and masks! For now we got up to 15 prizes.
On Friday, 26, NorthEast United will host Kerala Blasters in the league match. Our staff is excited about the game as our two sponsors will take part in it. As usual, we have a giveaway for our readers.
Follow this simple guide in order to stand a chance to win a NEUFC or KBFC signed jersey:
Sign-up at parimatchnews.com
Tell us who you'll support in the comment section
Support your team and visit Parimatch News after the game to get the final results!
Right after the final whistle, Parimatch News will select 15 winners.
Five will receive NEUFC jerseys, another five will get KBFC jerseys. Yet another five lucky ones will be selected as winners of Kerala Blasters masks.
Also, don't miss that: Mumbai Indians sign Tendulkar in IPL 2021 auction
Moreover, the Indian national football team is scheduled to play two friendlies: wanna know which ones? Answer is in the article!
Update 26.02.21
We followed the match with you and, by the way, broadcasted it live. The Parimatch News Derby turned out to be a very full on moment, and now we're ready to summarise our results.
NEUFC Fans who are winning jerseys:
Rajashree; Abhi Dutta; Nileemoy Pathak; Vanzampuii; Sagar Singha
KBFC Fans who are winning jerseys:
Deon; Afsal; Stephin; Arjunan S Nair; Athuljayan831
KBFC Fans who are winning masks:
Ajith Anangadi; Km Kunjumon; Athul Jayachandran; JINSHI N; Hilal
Congratulations to the winners!