Guan Chenchen leads 1-2 in women's balance beam final on day eleven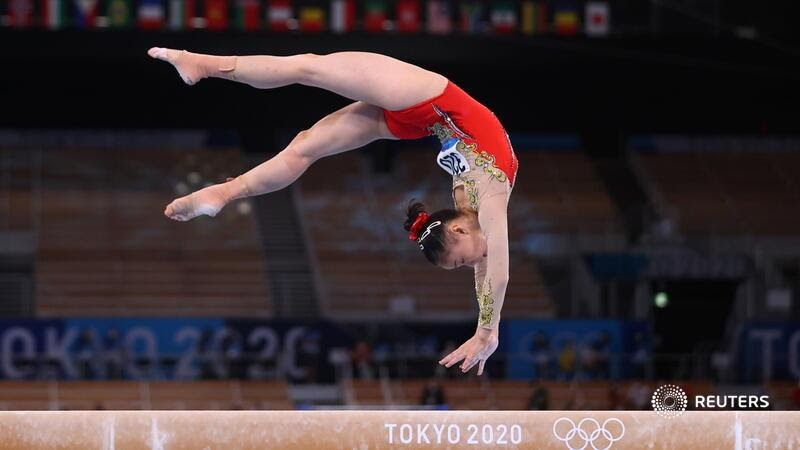 Reuters/ Twitter
Guan Chenchen wins the Olympics gold in women's balance beam final on day eleven of the Tokyo 2020 Olympics Games at Ariake Gymnastics Centre on August 03, 2021, in Tokyo, Japan.
Guan Chenchen, the final competitor of the women's artistic gymnastic competition at the Tokyo Olympics on Tuesday, August 3 won the gold medal for Team China in the women's balance beam.
She finished ahead of her teammate, Tang Xijing while 2016 all-around Olympic champion Simone Biles followed her 2016's bronze medal from Rio.
After an intense competition, Guan finished on 14.633, confirming her Olympic gold while Tang earned 14.233 to rank second and Biles scored 14.000 to confirm bronze.
Guan's gold title is the first for her country in women's artistic gymnastics before Linlin Deng won the balance beam title in London in 2012.
People's Republic of China gymnasts also finished 1-2 at those competitions with Sui Lu taking silver nine years back.
Biles had qualified to all four of the apparatus finals, scheduled for 1-3 August but she withdraws from all to play the women's balance beam.
She had used the same beam routine on Tuesday as she had followed in the 2021 season, except for a modified dismount. Instead of Biles usual full or double-twisting double back dismount, she introduced a double pike instead.
"I hope it sends [the message] that first I did this for me and nobody else because I wanted to compete one more time at the Olympic Games,"

said Biles afterward.
"It's not easy giving up a dream of five years and not getting to do it. It was really, really hard. I've never been in the stands, so I just wasn't used to it so to have one more opportunity to compete meant the world."
Earlier in Tokyo Olympics, she withdrew from team competition after losing in midair and from the all-around final completely to focus on her mental well-being.
Biles also shared her struggles with twisties on her Instagram story, a gymnastic word for when the athlete's mind and body stop working together.
"My mind and body are simply not in sync,"

Biles wrote in one of her story slides.
"For anyone saying I quit. I didn't quit."
The 24 years old had also posted the deleted videos in which he showed herself getting lost in the air while attempting at her uneven bars dismount, a double-twisting, a double back.
Biles also explained that she had been suffering from the phenomenon but only on the floor and vault. Tokyo is the first time they have bled into other events.
"They're not fun to deal with,"

she said.
"It's honestly petrifying trying to do a skill… not having your mind and body in sync."