U Mumba register a comprehensive 48-38 victory over Telugu Titans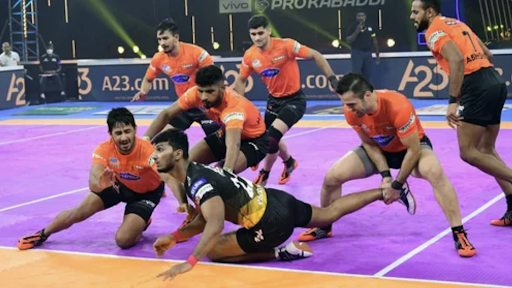 U Mumba's defence was consistent throughout the encounter
U Mumba beat the Telugu Titans 48-38 in the 41st match of the Pro Kabaddi League Season 8 at the Sheraton Grand Convention Centre in Bengaluru on Saturday helping U Mumba climb up to 3rd position on the points table.
Rakesh Gowda opened the scoring for the Telugu Titans but Mohsen Maghsoudlou picked up a bonus point to catch up with their opponents. U Mumba grabbed an early lead as Abhishek Singh was unstoppable for the U Mumba.
The defensive unit of the season 2 champions helped them inflict an all-out on the inexperienced Titans' unit in the 8th minute of the match as the Fazel Atrachali-led franchise led by 7 points.
In the absence of experienced raiders like Siddharth Desai and Rohit Kumar, the Telugu Titans were poor in the raiding department in the tournament so far. However, Rajnish and Ankit Beniwal had shown moments of brilliance in the last matches as they completed their super 10s. However, the U Mumba's defence was tight and lethal with Rinku Hari and Atrachali didn't give an inch to the opposition's raiders.
U Mumba continued their domination and inflicted the second all-out of the match on the Surinder Singh-led side. From the 10th to the 16th minute, U Mumba scored 10 points while the Telugu Titans could only score a couple of them.
U Mumba managed a complete team effort as all the players at least scored 2 points till the end of the first half. U Mumba had a mammoth lead of 15 points with a score of 28-13 as V Ajith Kumar and Abhishek scored 13 points collectively as the Titans had no answer to U Mumba's tactics. The team in lead had a tackle success rate of 66.66% and also had a raid strike rate of over 72% in the first half of the encounter.
The orange outfit started off the second half on a high with a successful raid and a successful tackle which reduced the Titans to just a couple of men on the mat. Abhishek was super tackled but the franchise still held a lead of 15 points.
Telugu Titans delayed their all-out by nearly 8 minutes with a couple of super tackles and successful raids when the Titans were on the brink of the all-out. U Mumba inflicted the third all-out in the 30th minute and was leading the match 37-20 at that point.
The Titans inflicted an all-out in the last five minutes as U Mumba got complacent and lost their rhythm while the Titans showed significant signs of improvement in vain.
In their next matches, U Mumba will battle it out against 3-time champions Patna Pirates on Tuesday at 7:30 pm while the Telugu Titans will lock horns with the Gujarat Giants on the same day at 8:30 pm.