Tamil Thalaivas dominate Haryana Steelers 45-26 to bag the win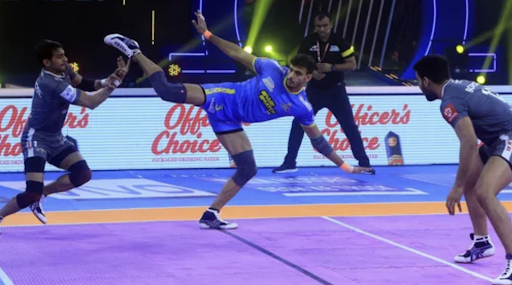 Manjeet had 10 points in today's encounter
Tamil Thalaivas trounced the Haryana Steelers 45-26 in the 45th match of the Pro Kabaddi League Season 8 at the Sheraton Grand Convention Centre in Bengaluru on Monday. The Tamil Thalaivas is now ranked 4th on the points table while the Haryana Steelers were completely outplayed.
The match got off to an eventful start with Surjeet and Rohit Gulia both going off the mat but the Steelers were in the lead as the former bagged a bonus point. Manjeet equalized for the Tamil Thalivas and revived Surjeet Singh.
The Thalaivas didn't look back from there on as their defense was on point with Manjeet picking up three points inside the first 5 minutes of the contest. Jaideep was the lone man standing and the Thalaivas inflicted an all-out and gained a 7-point lead in the 6th minute of the contest.
The Steelers were down 9-2 after the first all-out. The Steelers reduced the lead to 6 points but the Vikash Khandola-led side was no match to the Thalaivas. Prapanjan and Manjeet applied pressure and the Steelers defense couldn't work their magic as they did in the season so far.
The Thalaivas inflicted the second all-out in the 12th minute and stretched the lead to 20-6 as the Steelers could only hope for a miracle. Meetu Mahender, Jaideep, and Surender Nada who had been in terrific form in the tournament so far had fired a blank in the first half.
Haryana Steelers improved their performance as Vikash Khandola had got 3 touch points after the second all-out. The Surjeet Singh-led side had been reduced to just 3 men on the field but the lead was still 10 points.
The Steelers had scored 10 points from the 12th to 17th minute as they reduced the lead to just three points at 20-17 inflicting an all-out on the blue outfit. The Thalaivas' raiders had fallen prey to the Steelers' defense who got their mojo back as well. The Thalaivas were brilliant in the last three minutes of the first half and stretched the lead to 24-18 at the half-time whistle.
The streak of all-outs continued as Haryana Steelers were all-out for the third time in the 22nd minute of the match. The Thalaivas led by 11 points as the Steelers' comeback looked unlikely from this point in the match.
Later in the second half, the Tamil Thalaivas inflicted the 4th all-out on the Steelers. For much of the second half, the Thalaivas slowed down the pace of the match. For the blue outfit, Surjeet Singh and Sagar completed their high 5s and collected 13 tackle points in the match.
Haryana Steelers will clash with the U.P. Yoddha in their next match on Wednesday while Tamil Thalaivas will take on the defending champions Bengal Warriors on Thursday.